Discover more from 3 Million Years
Digital comics news, reviews and more. With Custard Comix - with a zine about things, comics and more to come!
2000 AD and Judge Dredd Megazine Crossover With Battle Picture Weekly and Action
From Next Week
From the 20th of September, there is a big crossover from Rebellion, with 2000 AD and Judge Dredd Megazine merging with Battle Picture Weekly and Action. This looks like it will be a fun read, and will combine fans of all of the comics, and maybe introduce some new ones!
This September, Rebellion asks the question – what would 2000 AD have been like if it had merged with stablemate Battle Action in the 1980s?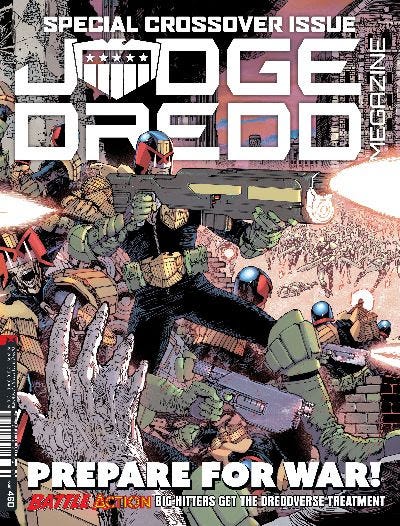 2000 AD Prog 2350 and Judge Dredd Megazine #460 are out on 20 September and form a fantastic new stand-alone crossover event merging classic 2000 AD characters with those from its former stablemates: the groundbreaking Battle Picture Weekly and the controversial Action.

2000 AD Prog 2350 is a special bumper 48-page issue with Judge Dredd meeting Action's 'Kids Rule O.K.!' in 'Juves Rule OK', former slave turned gunslinger El Mestizo crosses over with a classic Judge Dredd story, Hellman of Hammer Force descends into the bowels of hell itself, Major Eazy searches for the Treasure of Solomon, and more thrilling strips merge with legendary titles!

The crossover action heads over to Judge Dredd Megazine #460, as Judge Dredd meets arch-sorcerer Cursitor Doom, the Rat Pack becomes 'Rad Pack' in the Cursed Earth, and the Falcon Squadron from Battle's Johnny Red becomes 'Strato Squad' – plus more Battle Action crossover strips – as well as Spector, Rogue Trooper, Johnny Red, Lawless and Dreadnoughts continuing their superlative runs!

The newsstand edition of 2000 AD Prog 2350 – available from newsagents, comic book stores, and the 2000 AD webshop – features a superb character line-up cover by Cliff Robinson and Dylan Teague, while subscribers to 2000 AD will automatically receive an exclusive edition featuring a cover by Batman artist Andy Clarke homaging 1976's notorious 'Kids Rule O.K.!' Action cover by Carlos Ezquerra.

It's the explosive crossover multiverse that time itself cannot tame – the 2000 AD / Battle Action mega-crossover is out on 20 September from all good stockists in the UK and in North American in October!
---