Discover more from 3 Million Years
Digital comics news, reviews and more. With Custard Comix - with a zine about things, comics and more to come!
Advance Review: Northern Wildling Book 1
Coming Soon To Kickstarter
On September 26th on Kickstarter, a new project is coming from Ben Edwards - one of the creators of Hornets.
I was lucky enough to get an advanced view of Northern Wildling - Book 1.
3 Million Years is a reader-supported publication. To receive new posts and support my work, consider becoming a free or paid subscriber.
Northern Wildling - Book 1 is a collection of stories that touch upon events in and around the world of TTRPG. They'll make you laugh, cry, and everything in-between!

True events in an entirely made up world & a love letter to TTRPG.
---
---
One of the things I love about comics is the sheer variety of stories that can be told - I have backed all manner of stories on Kickstarter, from horror to sci-fi, and now I think I can add this one to my backing list - and it is so much fun!
I only have a passing knowledge of TTRPGs, but I could jump straight into this story and found myself working my way through to the end - and being disappointed I couldn't read any more.
Not only does this new book have some funny gags going on in it, I can see that there are some fun use of tropes and memes that plays of TTRPGs will certainly appreciate.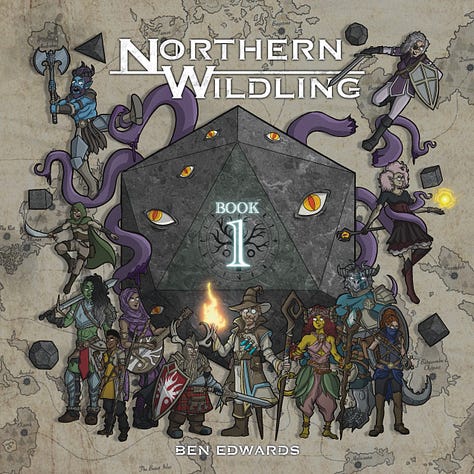 Crossing between the 'real world' and the fantasy world of the games is of equal fun, with some excellent reactions - be they in character, or outside of the game. I think I had a smile on my face throughout.
The art is excellent fun, with some great comedic moments being played out and well-identified characters.
I certainly look forward to not only backing this, but also having it on my ever-expanding bookshelf!
---
Ben Edwards is an Illustrator, writer & game designer based in Burnley, UK. Creator of Nemo - The One Shot Bloody Victorian London Horror Comic published by Blue Fox Comics and an illustrator on the recently successful kickstarter comic; Hornets - Book 1. He also runs a Patron providing resources for TTRPG's under Northern Wildling.
---
Sign up to be notified, or if you are clicking when it is live, you can back it here:
---