Discover more from 3 Million Years
Digital comics news, reviews and more. With Custard Comix - with a zine about things, comics and more to come!
Blood Axe & Coming Soon
New Manga From Kodansha
Kodansha has released news on a new manga series to read online, Blood Axe, and details on what is coming in digitally and in print.
New Original Manga Series BLOOD BLADE to Debut Exclusively at Kodansha.us
At their industry panel at Comic-Con International today, Kodansha USA unveiled, for the first time in the world, an all-original manga series by Japanese creator Oma Sei, to be published first in English, titled BLOOD BLADE. A thrilling action-adventure saga about Count Dracula reborn and on the run from an organization that is capturing and using weapons of monstrous destruction, BLOOD BLADE will have its world premiere in Fall 2023 on kodansha.us, with new content serialized weekly and available for free to Kodansha Reader Portal account holders. Episodes will be free until the release of the collected volume. After the exciting web-only run, BLOOD BLADE will also be available in print starting Spring 2024 and distributed by Penguin Random House.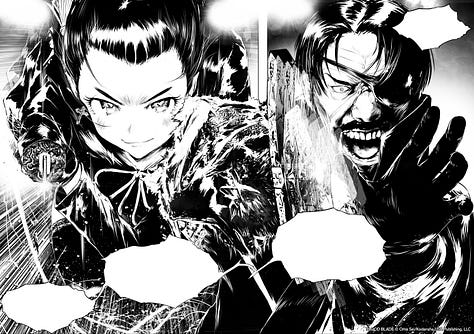 "BLOOD BLADE is an all-new kind of manga publishing effort, in which Kodansha premieres the works of an outstanding Japanese talent like Oma Sei to a worldwide English-reading audience first," says Alvin Lu, Kodansha USA Publishing President & CEO. "And we are inviting anyone to jump right into this manga series by offering each exciting new episode of BLOOD BLADE free for a limited time at the new Kodansha Reader Portal."
"BLOOD BLADE was heavily inspired by classic horror films and dramas," says Oma Sei, BLOOD BLADE series creator. "Though it is filled with vampires, golems, and mummies, many of these monsters have waned in popularity since their heyday on the silver screen. Monsters that once inspired terror in humans have been left behind by the passage of time, to the point that one might call them an endangered species. In writing this series, I aim to bring the spotlight back onto these monsters of yore."
In the world of BLOOD BLADE, Count Dracula is reborn as a katana-wielding young vampiress in a new, never-before-seen action manga set in a gritty, alternate-history Europe. Fans of cinematic, gory, supernatural alternate histories, like Vampire Hunter D, Hellsing, and Vampire in the Garden, will want to sink their fangs into BLOOD BLADE.

After the reincarnated Dracula rescues a girl named Clara from a mysterious stranger, Clara explains that she is the creation of a certain Victor Frankenstein. She also reveals that she is fleeing from an organization called Cerberus, which seeks to capture and study "monsters" such as herself in order to create an army of human-monster hybrids. Clara begs the vampiress to flee with her to an island of monsters. 

The new Kodansha Reader Portal allows new and existing manga fans to read and buy digital manga with greater ease, sample extended previews of hundreds of Kodansha series, take advantage of exclusive discounts, and much more. To experience the full benefits of becoming a Kodansha Reader, visit kodansha.us and sign up for a free account today!
---
SPRING 2024 NEW PRINT LICENSES:
BLOOD BLADE
By Oma Sei

Count Dracula is reborn as a katana-wielding young vampiress in a new, never-before-seen action manga set in a gritty, alternate-history Europe. Fans of cinematic, gory, supernatural alternate histories, like Vampire Hunter D, Hellsing, and Dance in the Vampire Bund, will want to sink their fangs into BLOOD BLADE.

Made in Japan, published in English!

Having fallen in battle long ago, Count Vlad Dracula is reborn as a katana-wielding young vampiress in an alternate-history Europe. After the reincarnated Dracula rescues a girl named Clara from a mysterious stranger, Clara explains that she is the creation of a certain Victor Frankenstein. She also reveals that she is fleeing from an organization called Cerberus, which seeks to capture and study "monsters" such as herself in order to create an army of human-monster hybrids. Clara begs the vampiress to flee with her to an island of monsters where the two of them will be safe…but as they set out for Monster Island, the sinister forces of Cerberus are in hot pursuit.

Rated: 16+
Fed Up With Being the Spoiled Queen's Genius Butler, I Ran Away and Built the World's Strongest Army
Manga by Reiga, Story by Skyfarm

A butler whose talents are wasted on domestic frivolities leaves his pampered noblewoman's household for a life of adventure in this fast and funny fantasy manga based on the hit web novel series from the creator of Rise of the Outlaw Tamer and His S-Rank Cat Girl!

Leet isn't just any butler. His mistress, Princess Kilik, demands the impossible–and he delivers it, seven times before breakfast. But one day, Leet decides enough is enough, and he flees for a neighboring land where the talented rise up through the ranks instead of languishing in thankless, dead-end jobs. Under a new name, Lilt, he enrolls in a training and job placement program, and rapidly discovers that, easy as "wax on, wax off," his butlering skills make him a valuable asset!

Rated: Teen 16+
Mermaid Prince
By Kaori Ozaki

Where do you belong? On the edge of death and danger, to feel life flowing through you? Can you find shelter in a space not meant for you? When new people move into your life, will there still be enough room left for you?

From the author of the gods lie. and The Golden Sheep, Mermaid Prince explores such complex themes in a series of short stories that highlight the beauty, wonder, pain, and loneliness that can come from feeling adrift in the world, as well as the joy that can accompany finding your own anchor amidst the seas of change.

Rated: 16+
That Time I Got Reincarnated as a Slime Omnibus
Story by Fuse, Art by Taiki Kawakami, Character Design by Mitz Vah

Can a lowly slime bring the cast-off of the world together and build a country where they can be themselves? The bestselling manga reincarnation of the classic fantasy adventure light novel and anime is now available in extra-large omnibus volumes.

Mikami's middle age hasn't gone as he planned: He never found a girlfriend, he got stuck in a dead-end job, and he was abruptly stabbed to death in the street at 37. So when he wakes up in a new world straight out of a fantasy RPG, he's disappointed but not exactly surprised to find that he's facing down a dragon, not as a knight or a wizard but as a blind slime demon. But there are chances for even a slime to become a hero, and maybe even build a country where the rejects and outcasts can find a place to belong…

Each book contains three volumes for almost 600 pages of the bestselling manga.

Rated: 16+
AUGUST 2023 NEW DIGITAL LICENSES:
The World is Dancing
By Kazuto Mihara

Release Date: August 1, 2023

Born into a life of acting and dance with a traveling theater troupe in 14th-century Japan, 12-year old Oniyasha has one problem—he doesn't know what the point of any of it is. Why must I step with the left foot here instead of the right? Why is one performance good and another, bad? Why do people dance at all? It all seems perfectly arbitrary, until a chance encounter in a run-down shack sets him down a path to revolutionizing the art form and influencing much of Japanese culture to come. A fictionalized account of the early life of Zeami Motokiyo (Oniyasha), the founder of modern Noh theater—the world's oldest surviving theater art—this coming-of-age artist's journey vividly brings to life a man far ahead of his time during one of Japan's most culturally and socially vibrant eras.

Rated: 16+
Issak
Story by Shinji Makari & Art by DOUBLE–S

Release Date: August 15, 2023

Anno Domini 1620. Europe is riven with the conflagrations that will grow into the Thirty Years War. Catholic and Protestant forces clash across battlefields ruled by sword and gunpowder alike, and mercenaries of every stripe ply their trade. Among them is Issak, a lone Japanese warrior bearing a matchlock of strange design, and fighting in service to his sworn mission—to find and kill the man who murdered his master and fled Japan for the other side of the world. Meticulously researched and gorgeously illustrated, Issak is the next character-driven, historical action epic that fans of Vinland Saga can sink their teeth into.

Rated: 16+
Blade Girl
By Narumi Shigematsu

Release Date: August 29, 2023

One year after losing her leg, 16-year-old Rin is tired—tired of the painful physical therapy, tired of being treated differently, and tired of her stupid, heavy, awkward prosthetic leg. All that changes when she encounters the Blade Runners, a group of one-legged athletes who run with "blades"—carbon fiber prosthetics specialized for competitive running—made by their gifted prosthetist, Kazami. The blades are light, flexible, and formidably difficult to control—Rin can barely walk with one, much less sprint. But as she tumbles to the ground again and again, she rediscovers many of the things that she'd forgotten, and finds a new goal: to compete in the Paralympics.

Rated: 13+
---