Discover more from 3 Million Years
Digital comics news, reviews and more. With Custard Comix - with a zine about things, comics and more to come!
Coming To Kickstarter: Hornets - Book 1 - The Sting
By Ben Edwards
Launching on the 21st of March from creator Ben Edwards is Hornets - Book 1 - The Sting.
In August 2062, the Alliance of States (formerly the United States) is embroiled in an ideological conflict with technologically advanced insurgents, the Republic.
But the Alliance have a not-so-secret weapon - the Hornets, an elite all-female unit known for executing high-risk missions in a bid to end the bloody conflict.
Made up of no-nonsense martial arts expert Vilma Guerrero, engineering genius Ida Wills, legendary sharpshooter Gloria Diaz, and gifted medic, Natalia Vaughan, the Hornets create headlines wherever they go.
Until they're captured by the Republic. And mysteriously ghosted by the Alliance.
Transferred to the notorious Camp Exelix, the Hornets must rely on their wits, courage, and teamwork to escape.

Pity they can't stand each other.
As a first issue to what looks like an interesting series, we get a hell of a lot packed in!
Throwing us straight into the (heh) hornet's nest, we get the first of some interesting time jumps throughout this book. It's a clever point to start with some action and character moments. I feel that revisiting this moment will become a theme through the story as it is a defining part of the story and to some degree, what is kicking off the adventure the Hornets find themselves in.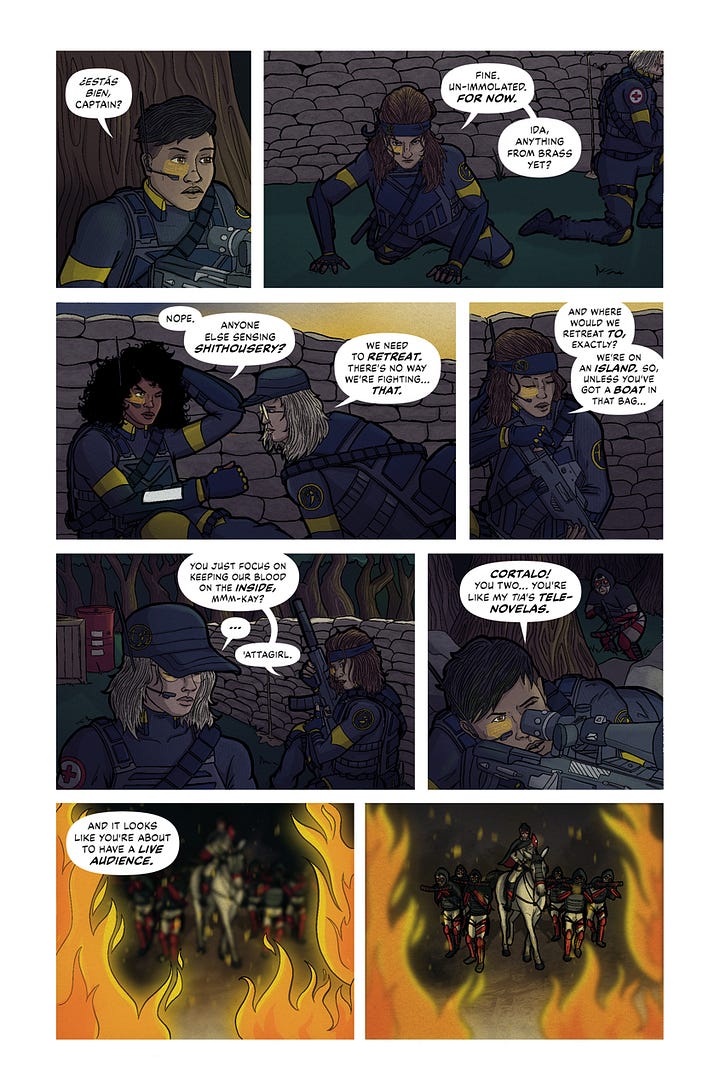 As we progress through the issue, we get some excellent moments throughout the recent history of the Hornets and the predicament they find themselves in. As I say, the time jumps are interesting, and you find yourself piecing it together in your head. This does help you get invested in the characters, the situation and what may or may not happen next.
There are some good action scenes, as well as some very tense moments. These are played out well in the artwork, with some fun being had in the big battle scenes, including some mech suits!
This looks like an excellent beginning to a series that I will be backing - with a great team on board and an exciting story to get into.
Sign up to back it here:
Creator(s) details -
Writer: Jordan Sam Adams is an award-winning writer from Birmingham, UK. He has written comics for Blue Fox Comics, Disconnected Press, and 100% Biodegradable. He holds an MA in Creative Writing. He likes strong coffee, vegan food and anything story-shaped. Ideally simultaneously. He's bisexual. He lives with his wife and two daughters in a house overlooking a cemetery.
@JordanSamAdams
Illustrator: Ben Edwards is an Illustrator, writer & game designer based in Burnley, UK. Creator of Nemo - The One Shot Bloody Victorian London Horror Comic published by Blue Fox Comics. He also runs a Patron providing resources for TTRPG's under Northern Wildling. He doesn't like coffee at all yet despite this crippling difference Ben & Jordan make it work.
@Benedwardstoons
Letterer: Rachel Ordway is a cartoonist and letterer best known for having a dad. In addition to various self-published comics, her work appears in the acclaimed anthologies Chainmail Bikini, Sweaty Palms, Dirty Diamonds, and Iron Circus Comics' FTL, Y'all!, and her lettering can be found on several Tapas Originals webtoon series. (She prefers hot chocolate.)
https://rachelordway.com/