Discover more from 3 Million Years
Digital comics news, reviews and more. With Custard Comix - with a zine about things, comics and more to come!
Contraband Spreads Around The World In Bad Benny
From Markosia
With the news that the world of Contraband is increasing in size, with Christina coming in April 2023:
A new announcement has spread the word worldwide with a unique look at sequential art while adding to the influencer-led world of Contraband with Bad Benny.
Coming out in the winter of 2023, this new comic utilises several graffiti/street artists to create comic art on walls worldwide, with art appearing in places such as the UK, Turkey, Indonesia, India, and more.
Coming out from Markosia, this is something different and something I have never come across before. I would be intrigued to hear if anyone else has seen the art or something similar. Not only does it fit in well with the theme of the Contraband story, but it also brings it in as a worldwide event and a whole host of artists!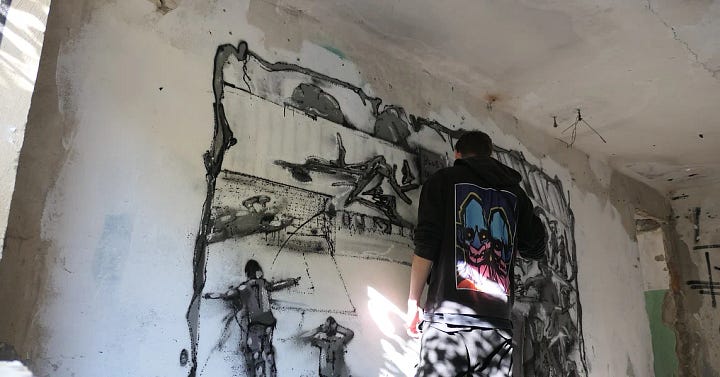 Ever since that dark web virus shifted Contraband control to any #1 Influencer, everyone is chasing top spot.

And Blues newest star Jose is rising fast. But disgraced beat cop Benny has photos he's sure proves Jose's a cold-blooded killer - and he's hell-bent on exposing the player's past crimes to regain his credibility.
Bad Benny is the 1st comic created by graffiti artists page by page on urban walls all over the world. Each spontaneously painted artwork lives on its own - unique ideas and concepts together forming a dark crime thriller.
Seeing all these pieces of art worldwide is an amazing thing, and I can't wait to read more.
---
Two British moms join global underground artist group to paint 1st graffiti graphic novel
Published by indie comics title Markosia, Bad Benny features Southend's KJ Stilwell, Swindon's Sarah Harris and graffiti street artists from 8 other countries. 
Written by Canadian TJ Behe, illustrated by Bosnian Mike Bogdanovic and conceptualised by Stilwell, Harris and a dozen global street artists, Bad Benny is the first graphic novel painted in graffiti sequentially on random walls all over the world.   Each "page" appeared spontaneously on previously undisclosed dates in the UK, Indonesia, Holland, India, Turkey amongst others.  
Bad Benny is about a disgraced London cop struggling to police the vicious world of dark web social influencers - where people will go to any lengths for maximum popularity.  Benny lives in the confusing but ruthless world of the dark web where - after a cynical activist hack - account holders can physically own popular social media app Contraband by becoming its #1 influencer.  People everywhere chase the top spot - including fast-rising Blues star Jose. But when Benny uncovers a photo he's sure proves Jose's a cold-blooded killer, he becomes obsessed with exposing the player's past crimes to regain his own credibility.
Both women are active artists in their communities and had critical roles in the project.  By creating Bad Benny's first page, Stilwell (graffiti name KJ) greatly influenced the tone, characters and vibe of the entire graphic novel. She has created her art in gardens, homes, pubs - and even a boxing club - all around Southend.  "Involvement in this exciting and original street art project was an opportunity that I could not let pass me by," says KJ. "I appreciated the freedom of self expression given to me whilst realising this awesome narrative."
Harris (graffiti name Lost Dogs) worked through challenging concepts appearing on two internal pages  A full-time artist, Lost Dogs has done hundreds of street art works including recent walls for councils, football teams and other private clients - but she prefers creating expressive artwork in her favorite derelict building alongside other local graffiti artists. "I paint paid mural commissions - and on weekends with my friends in abandoned industrial buildings where painting is (although not strictly legal) tolerated.  These are our own art galleries - now popular with locals who come to check out the latest art and graffiti."
Although each individual piece was created to live on its own, strung together the wall art became a dark thriller about greed, insecurity and thirst for superficial fame.  Writer TJ Behe says the dozen artists provided their interpretation of very rough sketches of script, scenes and characters he'd shared with the group. From their wall artwork input Bogdanovic devised an illustration approach for the printed graphic novel. 
"Graffiti is at the heart and the soul of Bad Benny - and this project tries to convey the raw realism of what graffiti is all about", says Behe. "These pages have appeared in busy markets, suburban underpasses, high street businesses, highway pillars, and transport vehicles.  The story features graffiti artist characters and the artwork is created in a graffiti style.  So real graffiti artists had to be the people sharing their ideas on urban spaces through these pages."  
"This is exciting for us," says Markosia publisher Harry Markos. "We love innovative comic concepts and this is yet another amazing experiment for the genre and Contraband series"
The project took 18 months to complete but Behe says it's difficult to know how long the pages will remain on the walls. "Some pages seem to be standing the test of time - others were quickly covered over with fresh art from other creative graffiti artists. That is the culture."