Discover more from 3 Million Years
Digital comics news, reviews and more. With Custard Comix - with a zine about things, comics and more to come!
Dead Romans Coming In March 2023
From Shadowline
Dead Romans is coming soon from Shadowline, an epic-looking swords-and-sandals mini-series with an excellent team on board. I'm looking forward to reading this, as it looks great - check out the details below.
---
Announcing Dead Romans, the all-new six-issue swords-and-sandals series from Image Comics' Shadowline imprint. Written by Fred Kennedy (True Patriot, The Fourth Planet), with art by Nick Marinkovich (Underworld), colors by José Villarrubia and letters by Andrew Thomas (Mosley), readers will follow the harrowing events in the Battle of Teutoburg Forest, the most decisive loss in Roman military history—and the victory that reshapes the people of Germania. 
Thanks for reading 3 Million Years! Subscribe for free to receive new posts and support my work.
Arminius has fought for Rome long enough. He is a German by birth, and now that he serves as advisor to the Roman governor of Germania, he sees firsthand the cruelty Rome has inflicted on his people. So he hatches a plan to unite the Germanic tribes, confront Rome's army in a carefully planned attack, and reclaim Germania for its people.
But Arminius's plan is complicated by Honoria, the woman he loves. She serves the Roman governor; she is faithful and loyal to Rome. For Arminius's victory to have any meaning, she must accept his actions and remain at his side as his queen. But when the fighting starts, will she choose love over empire?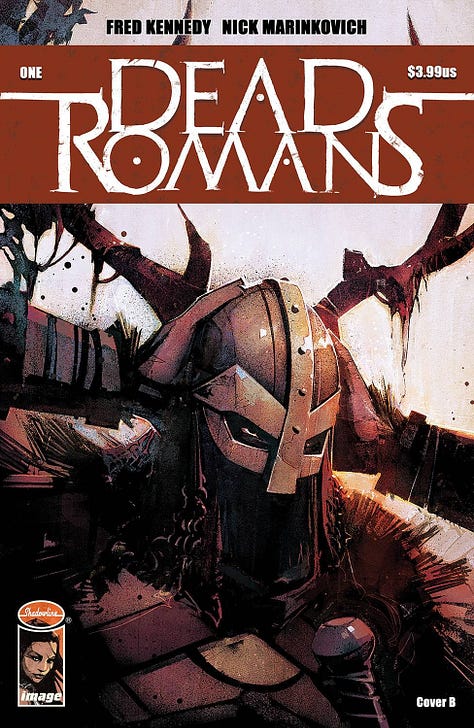 "Nick and I were talking about the book for a LONG time before either of us started working on it," said Fred Kennedy. "Just the setting, the visuals, the dark and horrific nature of the tale we were building. Those talks were pretty vague, just broad strokes about swamps, death, and violence on a mythic scale. But when we began digging deep into the characters, it became more of a love story. I know it seems weird given how it reads initially, but my personal takeaway from this process is that everything that happens in Dead Romans comes from a place of passion—some misplaced, some sincere."
With four different variant covers by artists including Nick Marinkovich, Adam Gorham (The Blue Flame), and Cary Nord, as well as a limited print sketch cover.

Dead Romans #1 drops in shops Mar. 1st. Edited by Eisner and Schuster award-winning Allison O'Toole.
---