Discover more from 3 Million Years
Digital comics news, reviews and more. With Custard Comix - with a zine about things, comics and more to come!
From Mad Cave Studios: Crusader And More New Series Planned
Double News From The Publisher
Two bits of news from Mad Cave Studios with the announcement of a new series coming soon, plus a new partnership which will lead to more comics!
3 Million Years is a reader-supported publication. To receive new posts and support my work, consider becoming a free or paid subscriber.
Artist and writer Matt Emmons, redefines what it means to be "righteous" in Mad Cave's upcoming fantasy adventure!
Writer and artist Matt Emmons (Gardener) and Ukrainian letterer, Andriy Lukin (Lower Your Sights), have teamed up for the new beautifully illustrated action/fantasy series, Crusader, exclusively from Mad Cave Studios! 
A Templar Knight finds himself transported to a dangerous realm known as the Beastlands. With sinister entities known as The Masters hunting him down, all he has is his sword and a weird, goblin-like creature named Grimbel to guide him through this strange new world.
"I've been trying to capture the feeling of a pulpy, fun adventure story that embodies everything I've loved about the genre, and I hope it translates," said Matt Emmons. "I've also been wanting to draw Pilgrim in action for years, so it's very exciting to finally bring him to the page. Crusader has been a fun challenge!"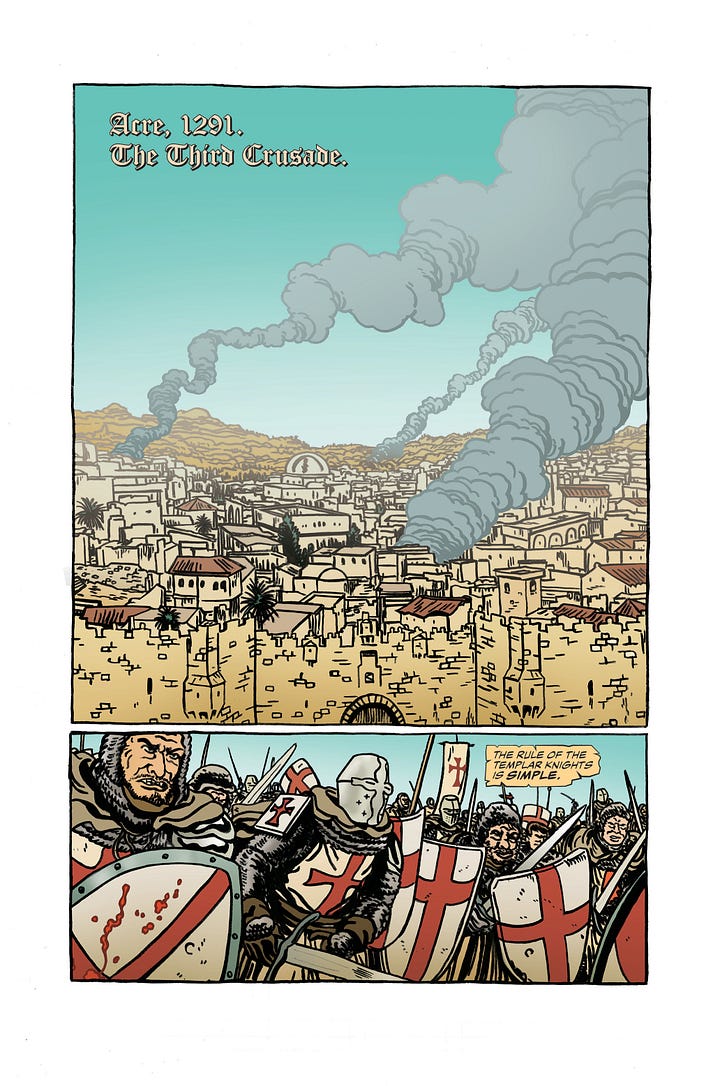 In addition to being a fun and pulpy action-adventure fantasy series, Matt Emmons notes a personal connection to the series: "I was raised Catholic, though never really engaged with it or practiced beyond when I was required to. I've struggled trying to reconcile how contradictory some of the most extreme versions of faith can be. It's a common feeling I've found with others that feel like we have to unlearn that we don't have to follow a certain belief system in order to be "good" and that sometimes we really do need to question systems in place rather than be party to them. The Crusader at the center of the story, struggles with a much more exaggerated version of that, trying to survive during a crisis of faith and return for the better."
"Crusader is an adventurous and fun title that won't leave fantasy fans disappointed," said Andriy Lukin. "It's a story of reevaluating your goals and principles, filled with awesome art, memorable characters and great action scenes! I'm very excited to help Matt Emmons with his artistic vision and I hope our readers will appreciate the work we put into this series!" 
Andriy Lukin was a winner in Mad Cave Studios' Talent Search in 2022, and also specializes in creating logotypes, book design and cover art for comic books, music albums, and tabletop games. Matt Emmons' Gardner debuted with over 1400 backers on Kickstarter in 2022. The creative team previously worked on the Dagger Dagger Anthology. 
Crusader #1 is expected in shops Sept. 6, and is now available for preorder at www.madcavestudios.com. Cover B by Michael Walsh (Thor, Blood Stained Teeth).
---
---
Mad Cave Studios Partners with Amit Tishler to Publish Multiple New Series
Amit Tishler is known for his work on such celebrated franchises: Rainbow Brite, Seth Green's Camp WWE, Animals, and Mr. Pickles
Mad Cave Studios has teamed up with the distinctive, up-and-coming director, animator, and TV writer Amit Tishler (Animals, Mr. Pickles), to publish multiple new series and graphic novels! 
In animation, Amit Tishler is known for his work on such celebrated franchises as Rainbow Brite and Seth Green's Camp WWE. The upcoming history, folklore and dark fantasy stories for Mad Cave Studios however, are aimed at inspiring audiences and their notions of morality, loyalty, and personal identity through using powerful themes, emotionally complex characters, and biting social and political commentary.
"Given the media-driven landscape's effect on our collective mental state, we need more stories that challenge us to take a beat and question our reaction to what's happening around us," said Amit Tishler. "I'm excited and proud about my partnership with Mad Cave Studios, because their team has been incredibly open-minded and enthusiastic about my vision, the kinds of stories I want to tell and how I want to tell them." 
"Mad Cave is thrilled to welcome the talent of Amit Tishler," said Mad Cave Studios Publisher, Chris Fernandez. "His experience and creative diversity come to life in each of the upcoming titles we are partnering on. It's a joy to have Amit join our mad family, and we anticipate a fruitful future together." 
Learn more at www.amittishler.com and stay tuned for upcoming title announcements for Amit Tishler has in store! The first series with Mad Cave Studios is slated to release this Fall 2023 with the second series slated to follow.
---