Discover more from 3 Million Years
Digital comics news, reviews and more. With Custard Comix - with a zine about things, comics and more to come!
Fund Me Friday: A New Geek-Girl Arc - Identity Crisis
A New Jumping On Point - Funding Now
On Kickstarter and funding now is a new jumping-on point for those who want to catch up on Geek-Girl by Sam Johnson.
Super-heroes meets mean girls plus weirdness in the Geek-Girl ongoing series!
In an attempt to join Geek-Girl's super-team, Ruby Kaye's BFF Summer sets out to get her own super powers; and Geek-Girl's life flashes before her eyes as she takes on Identity Thief – who wants to be her. Get ready for Fake Geek-Girl!
There are many options in both print and digital to allow readers to catch up or get the latest on this excellent series.
Geek-Girl returns in Jump-On story arc 'Identity Crisis!'
Created and written by Sam Johnson (The Almighties, Cabra Cini: Voodoo Junkie Hitwoman) and illustrated by C Granda (Charmed, Grimm Fairy Tales), Geek-Girl is hot, popular college co-ed Ruby Kaye, who landed a pair of super-power-inducing tech glasses from her college's resident brainiac on a drunken whim. Since doing so, Ruby – given the moniker 'Geek-Girl' by her BFF Summer following her klutzy attempts to demonstrate her newfound powers to their mean girl friends – has grown from shallow 'It-Girl' into a true Super-Heroine. Ruby Kaye is… about to no longer be Geek-Girl.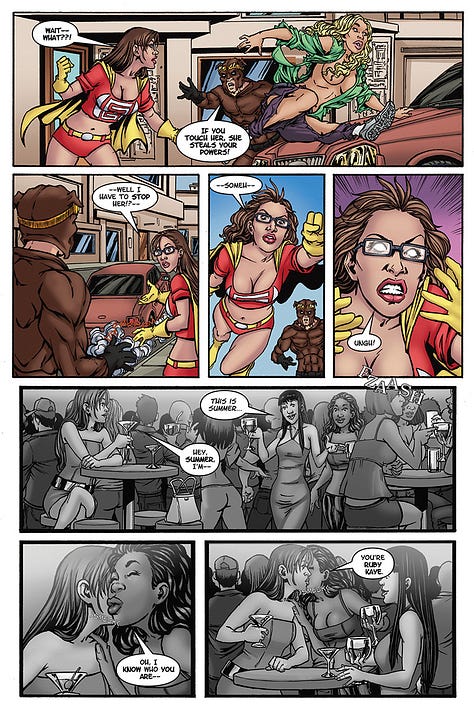 Johnson fills us in on the Jump-On issue Geek-Girl #11 and the new Identity Crisis story arc: "Geek-Girl gets involved in a fight with new villain Identity Thief – who has the power to literallly steal someone's identity – stealing their memories, looks and - in Ruby's case – powers!
"Geek-Girl #11 offers readers a unique opportunity to get inside Ruby's mind as, in pursuit of Identity Thief, the villain taps into it, in their efforts to be Geek-Girl! New readers will get to know the heroine and what she's been through, and existing readers will get new insights – before everything is ripped away from her!"
But the Super-Heroine is not without support, as Johnson concludes: "Readers will also get acquainted with her would-be Super-Team-mates Tyler and The Minger – just as her BFF Summer sets out to gain her own super-powers and join the team – by hooking up with a shared power corps known as The Hive – who are unlike any heroes or villains Geek-Girl and co. have experienced!"
Written by Johnson, illustrated by C Granda and colored by Chunlin Zhao, the Jump-On issue, Geek-Girl ##11 is Out Now from Markosia, and available in Digital, Regular and Deluxe Editions at www.comixology.com and www.geekgirlcomics.com
---
Praise for Geek-Girl:
"A great series to get into if you're looking for something super-hero related but original and interesting in its own right." -Jay Brown, Comic Sleuth.
"A charming comic, the dialogue displays a witty back and forth that would make Kevin Smith proud." -Kris Bather, Broken Frontier.
"This comic book is something special." -Donna-Lyn Washington, Review Fix.
"A brilliant premise, an interesting character, and intriguing prospects for the future."
-Chris Orr, Dress Like The Hulk.
---