Discover more from 3 Million Years
Digital comics news, reviews and more. With Custard Comix - with a zine about things, comics and more to come!
Fund Me Friday: Big F#@k Off Worms #1, Night Of The Comet & Explosion High
The latest crowdfunding projects!
Crowdfunded comics make up many of my purchases, and so many options are available. Here are some of the latest I think you should check out.
BIG F#@K OFF WORMS #1 IN COLOUR...24 page Comedy Comic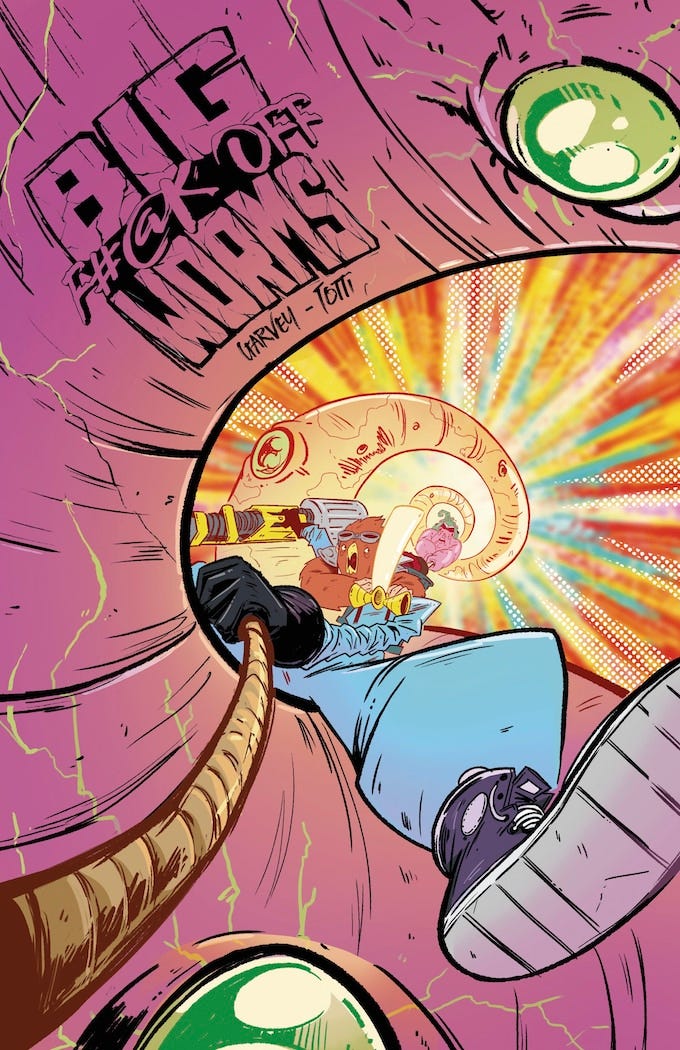 I meant the title does cover a lot of what to expect. With friend of 3 Million Years Matt Garvey on writing and art by J Francis Totti, this is an excellent read. On top of that, there are a load of add-ons in digital and print.
Based on a true story...(seriously, I'm not even joking) On December 5th, 2018, thousands of worms were shot into space to scientists aboard the international space station so they could see how a worm's muscles would react in zero gravity with the hope it would aid them in the research to stop muscular dystrophy in astronauts.

This next bit is not so true, but still thoroughly entertaining…

However, after a freak radiation storm, the space station is destroyed and the debris along with the irradiated worms are sent hurtling back to earth. That was twelve years ago and now on Earth, we have…BIG F#@K OFF WORMS…and Petey is the only man who can stop them!
---
Night Of The Comet is funding now on Kickstarter - check out my thoughts on this and the links to the crowdfunding page below:
---
Launching soon from Charles Etheridge-Nunn and Mad Robot comics is Explosion High.
I backed the first issue and am glad to see it return. It looks like there is an option for new backers to get issue #1.
Superhero school's back in session! Dorm parties and gym lessons get explosive!

Plus a GIANT MONSTER (that got your attention we hope). 
---
Thanks for reading 3 Million Years! Subscribe for free to receive new posts and support my work.