Discover more from 3 Million Years
Digital comics news, reviews and more. With Custard Comix - with a zine about things, comics and more to come!
Fund Me Friday: Nine Lives & Amongst the Stars
Available on Zoop & Coming Soon To Kickstarter
Live on the crowdfunding platform Zoop is Nine Lives from Steve Horton & Chris Peterson. Check this out, and Amongst the Stars coming soon from Band Of Bards on Kickstarter below:
---
The NY Times bestselling author launches his follow up on Zoop!
Now live on Zoop is a new campaign to fund Nine Lives, the new comic from NY Times bestselling author, Steve Horton. Nine Lives is about nine incarnations of the same woman throughout history, each with different magic powers, and a reincarnated killer that targets each of them. Cleo, the sixth incarnation, is a flapper in 1920s New York with the power to turn water into gin, and that's just the beginning.
Thanks for reading 3 Million Years! Subscribe for free to receive new posts and support my work.
This book is Horton's latest outing in comics, following his work on the Eisner award winning, and NY Times bestselling graphic novel, BOWIE: Stardust, Rayguns, & Moonage Daydreams, with superstar collaborators, Michael and Laura Allred.
Nine Lives has a near 10 year history of Horton and artist Chris Peterson (BOOM!, Image, Black Mask) trying to get this book made. Frustrated with the traditional publishing pitch model, the team have turned to crowdfunding to take their destiny into their own hands.
Horton had this to say about the book: "Never give up on projects! I've had this one in the back of my mind for years after it didn't find a home many years ago, and now the world gets to meet Cleo - all nine of her! Chris Peterson has only improved as an artist since we first pitched. If you liked any of our previous projects, you'll love this."
Zoop CEO, Jordan Plosky shares: "We are thrilled to be working with Steve and Chris on this project. It's a feather in the cap of Zoop that we are able to help them realize their vision, when other methods could not. Finally, after so long of trying, there is now an outlet that fits the needs of creators such as Steve and Chris."
Zoop is the new home for creator-owned crowdfunding. For publishers and creators, Zoop is an all-in-one pre-order, production, fulfillment, and marketing solution that connects them directly to their fans.
---
Band Of Bards has a new Kickstarter project coming to soon.
---
Amongst the Stars, a sci-fi romance anthology launches on Kickstarter this Valentine's Day
Band of Bards is proud to announce their first Kickstarter of 2023, Amongst the Stars, a romance in space anthology that will bring you to gladiatorial arenas, space stations, hair salons, and alien planets. You'll meet mercenaries, assassins, astronauts, and unknowable beings. And you'll watch them all fall in love....in space. 
 
This anthology is curated by Elyse Russell & C. J. Hudson, along with assistant editor K.R. Cullen. Composed of 14 stories centered in a mash up of sci-fi and romance, Amongst the Stars promises to deliver pleasure on a cosmic level. Inside these pages you'll find works from Caroline Leigh Layne (Money Shot), Jenny Odio (Tales from the Pandemic), Brent Fisher (Extra Pages Press), Fell Hound (Commander Rao),  Paul Carroll (Limit Break Comics), Nahuel F.A.(Negative Space Comics), Travis B. Hill (TechnoKnights), Damien Becton (Worlds Away), Ben Humeniuk (Bro-D Can't Be Broken), Lindz McLeod (The Dark Side of Purity), and many more wonderful indie comics creators.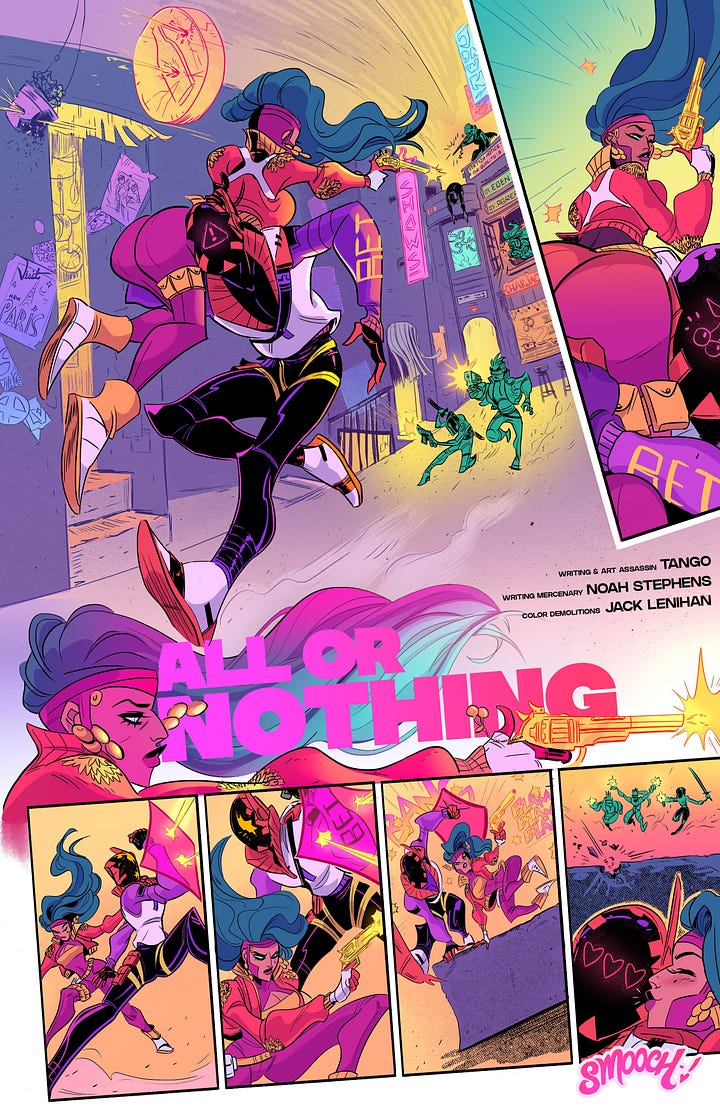 Amongst the Stars features covers from Rio Burton, Caroline Leigh Layne, Mariateresa Susca, and a very special cosplay pin-up cover from legendary cosplay model Ani-Mia!
"ATS encompasses the driving force we all felt to create opportunity for indie comics creators. It's become our opportunity to highlight talent and give time and dedication to some of the very best this expressive medium has to offer. We didn't want to make the process too cumbersome or restrictive, but we still wanted to provide direction, and we felt genre was the best way to do that. Ultimately we we decided on two genres for creators to adhere their stories to: romance and sci-fi. Romance because it hasn't had its moment in the sun with respect to anthology or even monthly releases for quite some time. And sci-fi because it's fucking cool, and anything and everything is possible." - C.J. Hudson, curator & Bard
"Elyse and C.J. are powerhouse creators. When they pitched the idea for Amongst the Stars to us we knew it would be a banger. Chris and I have been excited for this campaign and could not be more thrilled to be publishing Amongst the Stars." - Tim Stolinski, Band of Bards co-founder
Amongst the Stars launches on Kickstarter on February 14th and ends on March 17th. You can see a preview of Amongst the Stars at Band of Bards' page on GlobalComix, and don't forget to follow the campaign!