Discover more from 3 Million Years
Digital comics news, reviews and more. With Custard Comix - with a zine about things, comics and more to come!
Kickstarter Review: Tales From The Interface No.4
Live now on Kickstarter
Back in 2021, I reviewed the excellent Tales From The Interface No.3.
It was an excellent read, and I've had the chance to have an advance look at the latest issue which is live now on Kickstarter.
I made the comparison with the world of Judge Dredd in the previous review, and this issue made me think even harder about this comparison. In this issue, I feel closer to the citizens of the world of Judge Dredd. They all have their own ways, and many different types exist. In this issue, we meet some more, and what passes for entertainment in this world.
It plays out well, and the way it all leads up is very organic. The writing is very clever as it looks at the bigger picture of the quest and the individual dynamics between the characters.
There are some good threats, too, with monsters, other citizens and the ruling class - who want to keep the status quo.
I enjoy the art style in this story, with the bright lights, the games, and the underbelly of this world.
It's great to see a series like this continue and worth checking out, and if you haven't read the others, you can get them too!
Check out the information below for more details.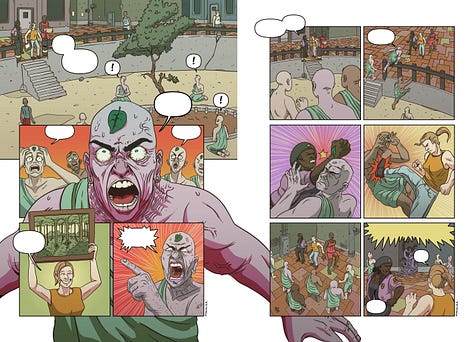 Emmanuel Filteau is launching the fourth comic book in his creator-owned series, TALES FROM THE INTERFACE. Coming to Kickstarter, March 15.
What will be left of us when we no longer think for ourselves and depend on technology for every aspect of our life? When they are not dreaming, citizens must endure in a harsh, violent and closed-up decaying city.
Order is maintained by the Robopaxes, nightmarish tentacular monsters. At the center of all this, a couple is torn apart. While Clara continues unraveling the mysteries of humanity's past, Gauthier sinks ever deeper into promises of luxury and unending dreams.
TALES FROM THE INTERFACE is brilliantly detailed, colorful sci-fi epic, packed full of clever references dipped in black humour.
Emmanuel Filteau is a Montreal-based author. He's been independently publishing TALES FROM THE INTERFACE since 2017 and has been in the comics business since 1997. He's published in numerous anthologies/magazines. TALES FROM THE INTERFACE is a truly independent project. As a solo creator, Emmanuel takes pride in the singular expression of art as a form of communication and describes his comic as a big part of how he talks to the world. Tales from the Interface 1 won 3rd place in Bleeding Cool's Top Independent comic of 2017 and Book 3 was nominated for best comic book in Sequential Magazine 2021 Awards.
Book details
6x9" with 48 pages of comics, Full Colour, Perfect bound
Kickstarter price: CA$ 24 / US$ 18 (Incl. shipping within Canada)
Store price: CA$ 18 / US$ 14 (Plus shipping) Available June 2023
Kickstarter campaign link
Previous issues can be read starting here:
Store link, where the book will be available after the campaign.
---