Discover more from 3 Million Years
Digital comics news, reviews and more. With Custard Comix - with a zine about things, comics and more to come!
Fully funded and reaching its stretch goals is The Chefs Of Death Issue 1. With all profits to be donated to Cancer Research, this photo comic wants to raise as much as possible for charity.
3 Million Years is a reader-supported publication. To receive new posts and support my work, consider becoming a free or paid subscriber.
The comic is a slice of sci-fi madness as Zarmdov, the deadliest lifeform in the Universe, is sent on a mission to find a new source of sustenance for the citizens of his planet, and sadly for humanity he finds us absolutely delicious.

The only two people who become aware of his existence are journalists Robert Mills and Audrey Pearce, but can they save the entire world from being eaten? And will the normally utterly rubbish Prime Minister John Borrison be of any help at all?
Written by Alex Finch (whose debut novel Several Moments Of Madness was released last year), the comic stars award winning stand up comedian Ian Lane as the alien Zarmdov, professional actors Ben Scheck and Louisa Gosse, the writer of Massacre For Boys and Killing Moon Rises and the co-host of the popular podcase A Very British Horror Chris Denton, real life scientist Dr Chloe Taylor, and Alex Finch as he looks alarmingly like a certain British Prime Minister with a wig on. Meanwhile Neil 'Bhuna' Roche has lettered the comic, as well as designing the logo and the cover for the series.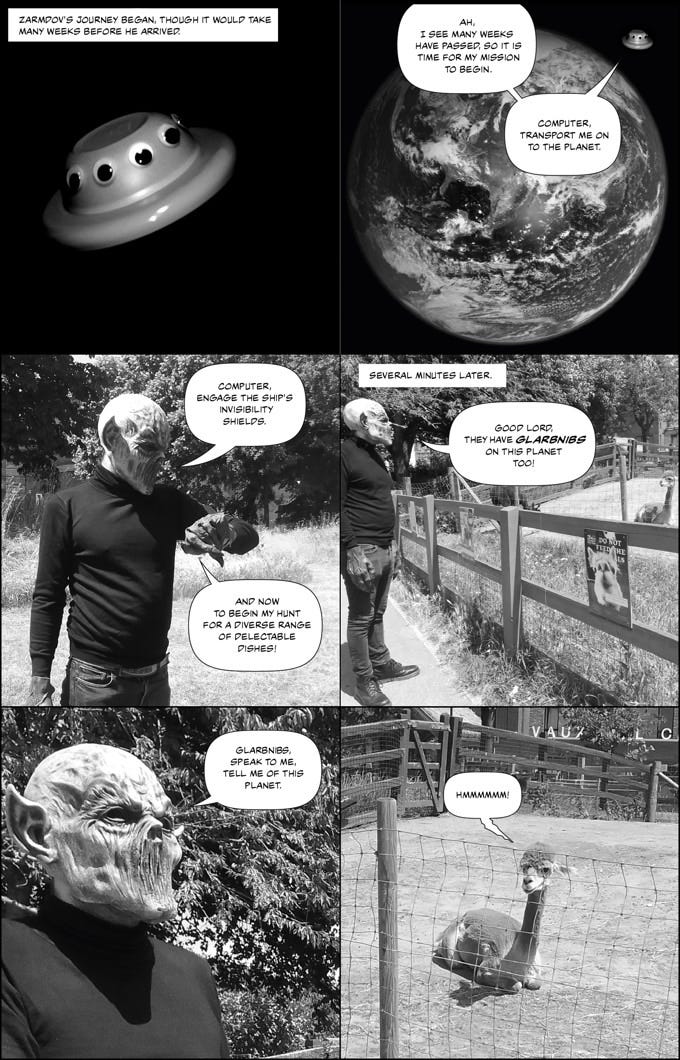 This looks to be a fantastic bit of fun with a low Kickstarter goal, and it has already reached that! That means there is more to go to charity as the comic is all ready to go. There are stretch goals coming and being busted, so please check this out.
---