Discover more from 3 Million Years
Digital comics news, reviews and more. With Custard Comix - with a zine about things, comics and more to come!
Funding Now: Cabra Cini Returns In Her Own Mini-Series
Check it out now on Kickstarter
From the pages of Geek-Girl and now in her own mini-series, Cabra Cini is funding now on Kickstarter with a selection of catch-ups and the main story in both print and digitally.
3 Million Years is a reader-supported publication. To receive new posts and support my work, consider becoming a free or paid subscriber.
Cabra Cini goes from Voodoo Junkie to Interdimensional Hitwoman!
Following a number of anthology short stories and also having appeared in the pages of Geek-Girl, cult character Cabra Cini (pronounced 'Carbraa Cheenee') has graduated to her own Mini-Series – and all four issues of Cabra Cini: Voodoo Junkie Hitwoman are Live on Kickstarter now!
No longer willing to let her boyfriend/pimp treat her like dirt, Cabra Cini got lethal payback with the help of voodoo magik - and liked it. Voodoo became her new addiction and Cabra has cleaned up her act and forged a deadly new vocation…
In her Mini-Series, we're introduced to the supporting characters and antagonists in Cabra's world - including her pet werewolf El Hombre Lobo, and insane Neo-Nazi White Out & his lobotomized, zombified butler Chives. We're also introduced to The Infinite dimension – a place Cabra has been causing problems for... and is about to become a problem for her.
Cabra's creator/writer Sam Johnson (Geek-Girl, The Almighties) fills us in; "Cabra routinely utilizes her magik to access 'The Infinite' – Limbo's 'crazy cousin, locked away in the attic' – which, for those who trespass on it, can serve as a dimensional gateway between where they are and wherever they want to go (a boon for finding her 'hits'). But The Infinite and Cabra's Mindscape - two completely separate dimensions - seem to be overlapping. In her Mindscape - which Cabra uses to psychically reach out and learn about her targets - she should have complete control; but she seems to be losing it."
With this going on, Cabra Cini: Interdimensional Hitwoman #0 – also available on the Kickstarter, alongside her Voodoo Junkie Hitwoman Mini-Series – features a Prelude to the upcoming Cabra Cini/Geek-Girl Crossover…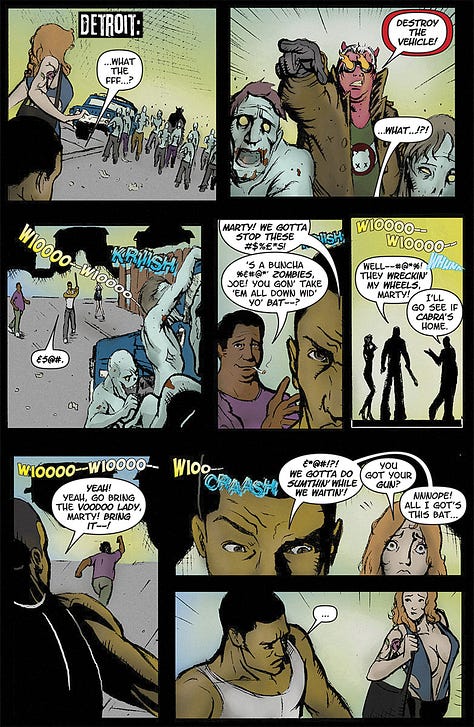 Drug-dealer Jacob Trencher has been robbed, shot and left for dead - but using his occult magik he has survived: and hired Cabra Cini to find the person responsible and take care of things...
"The assignment Jacob hires Cabra for is going to put her on a collision course with 'It girl' turned Superheroine Geek-Girl," Johnson continues, "as the person she's out to get is a member of Geek-Girl's new Super-Team!
"But to get to them, Cabra has to make it through The Infinite once more – and with her Mindscape and The Infinite dimensions seemingly merging and Cabra losing control, that's gonna be a problem..."
Suggested for Mature Readers, written by Johnson (Geek-Girl, The Almighties), illustrated by R.D. Ricci (The Banshee Chapter, Ligeia the Vampire) and Fernando Melek (Grimm Fairy Tales, Crossed), with Mike J.C. (Antarctic Press, Archie Comics, BlueWater, Oni Press) and more - Cabra Cini: Voodoo Junkie Hitwoman #1-#4 and Cabra Cini: Interdimensional Hitwoman #0 are live on Kickstarter now, and you can get to it at www.cabracini.com
Back it on Kickstarter now:
---