Discover more from 3 Million Years
Digital comics news, reviews and more. With Custard Comix - with a zine about things, comics and more to come!
Get Fiends Of The Eastern Front Vol 1
Available For Pre Order Now!
I love this series from the pages of 2000 AD from Rebellion, and it's well worth checking out. You can pre-order Fiends Of The Eastern Front Volume 1 now, and it is out in December - Just in time for Christmas!
Pre-Order Fiends of the Eastern Front Volume 1
Vampires vs Nazis! This December Gerry Finley-Day and Carlos Ezquerra's Fiends of the Eastern Front is to be collected in a gorgeous new edition alongside contemporary tales from one of the all-time classic 2000 AD series.
Buried deep underground are the remains of Wehrmacht soldier, Hans Schmitt, and his diary, which journals his eerie encounter with the Romanian Captain Constanta and his platoon of blood-sucking freaks!
Back in 1943, with the Russians willing to fight until their last man in order to defend Stalingrad, Panzergrenadier Richter discovers Constanta's secret and learns than sometimes your allies can be just as dangerous as the enemy!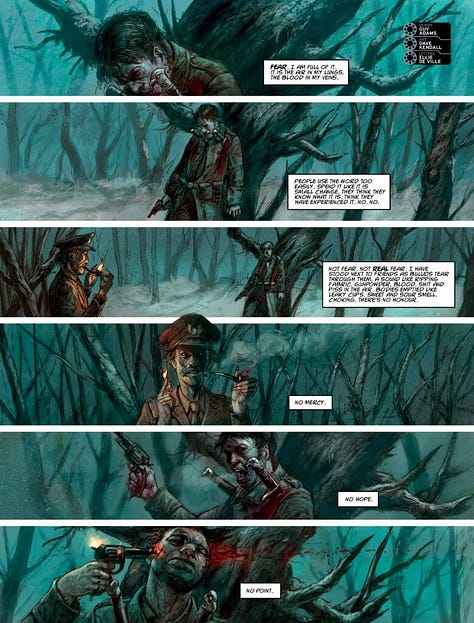 But the curse of Constanta has plagued the world for far longer than just the 1940s – and an all-star cast of creators takes the original killer concept to new, ever-more-deadly heights!
Featuring the breathtaking art of Carlos Ezquerra (Judge Dredd) and Colin MacNeil (America, Chopper: Song of the Surfer), with stories from Gerry Finley Day (Rogue Trooper), David Bishop (Thrill-Power Overload), this new collection also includes new stories from Ian Edginton (Stickleback, Scarlet Traces), Dave Kendall (Fall of Deadworld), Dave Taylor (Batman), Hannah Berry (Britten and Brülightly), DaNi (Coffin Bound) and more!
Long acknowledged by 2000 AD fans as one of the highlights of its first 1980s golden age, Fiends of the Eastern Front truly is comics to sink your teeth into – pre-order the paperback or the gorgeous webshop exclusive hardcover!
Out on 7th December 2023, Fiends of the Eastern Front is a fantastical war story with plenty of bite!
Or get it at Forbidden Planet: