Discover more from 3 Million Years
Digital comics news, reviews and more. With Custard Comix - with a zine about things, comics and more to come!
Get Yourself Under The Influence In July
From Mad Cave Studios
Mad Cave Studios has announced a new series coming in July 2023. It looks like an interesting concept and has some great art and colours. I will be getting issue #1. Have a look at the details below of Under The Influence.
Mad Cave to release a thrilling cyber-cult classic New York Times-acclaimed writer, Eliot Rahal!
When a cyber cult takes on a life of its own… things spiral out of control! Mad Cave Studios is proud to announce Under The Influence, by New York Times-acclaimed writer Eliot Rahal (Hot Lunch Special, Bleed Them Dry, Madam Satan), with art and cover A by Stefano Simeone (The Last Days of Black Hammer, Star Wars, Star Trek) and letters by Frank Cvetkovic (The Airless Year). Lunar Exclusive cover by Nicoletta Baldari (Incredibles 2, Ariel, Rapunzel, Big Hero 6, Captain Marvel).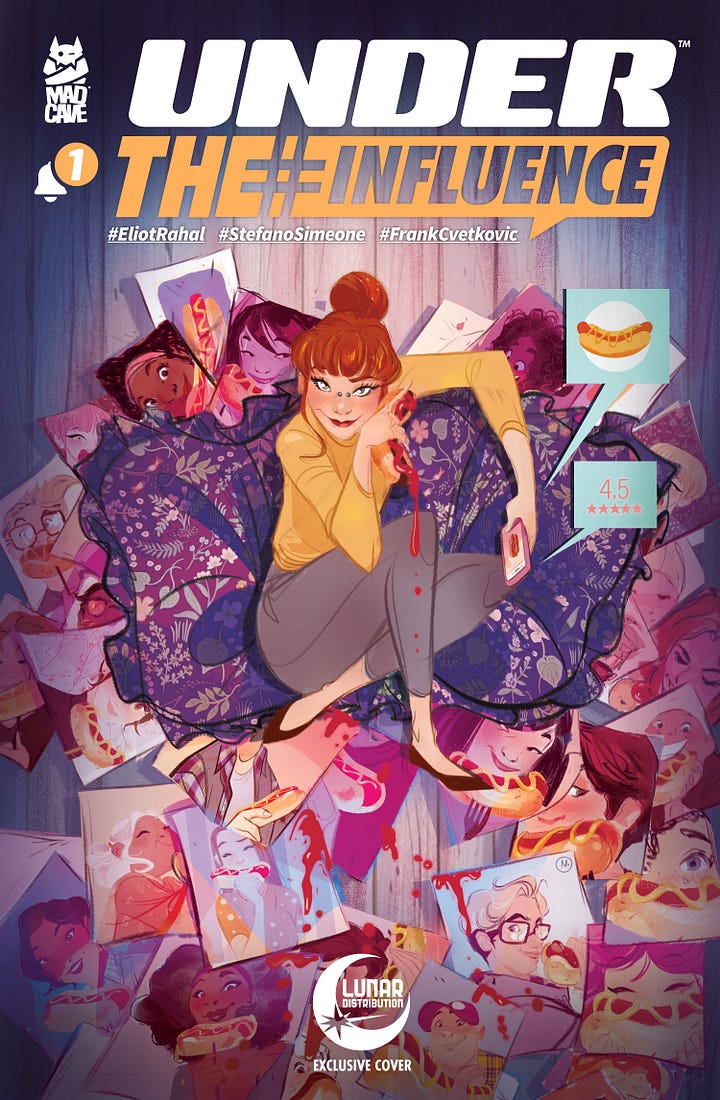 A teenage sociopath, Paul Kozac, has accidentally created an internet cult called The Hot Dog Party. When a prank turns deadly, the F.B.I. sends in an undercover agent, Cara Cole, to investigate and infiltrate their ranks. Now Cara battles against real stakes, fake news, and memes in a character-driven story about power structures and the communities you build. This is a story about "Click to follow" cultism during the age of social media.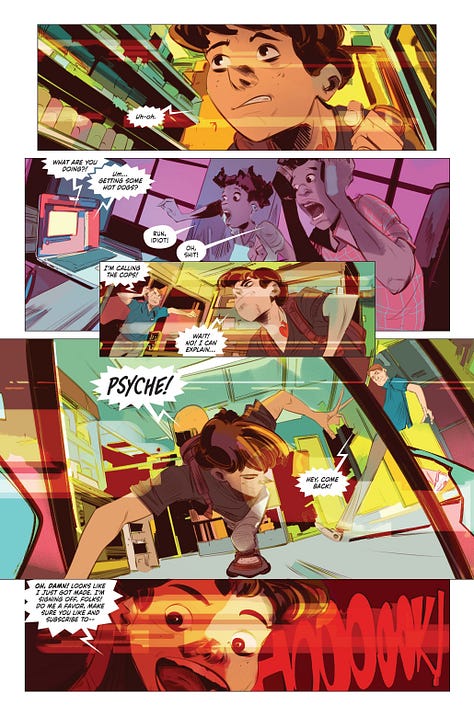 "Cults as an idea are very fascinating to me. How they work," said Eliot Rahal. "The relationship between the cult members and cult leaders. And now it really seems that we as a species have moved into a new era of cults through the internet. Sometimes I can't help but think about where this is all going. Fortunately, Mad Cave was there to give me that opportunity. Overall, Under The Influence is a five-issue story about an internet cult that gets too big, inertia, and hot dogs. All power to Stefano Simeone who brings so much dynamic action to a book that has to deal with the internet and screens a lot. Also, a special shout out to editor Steenz who was fundamental in the story process. And also to Chas Pangburn who sewed it all together."
"Since I read Eliot's first comics, I've wanted to work with him on something. I was sure he could cook something special," said Stefano Simeone. "I wasn't wrong, and he cooked hot dogs! This book is about internet and socials and cultism, and tells about the most difficult age of life - when you're too young to be an adult and too old to be a child, so you're just stuck in the middle. I'm lucky I have the chance to bring to life all those characters with their different feelings, it's a great challenge."
Under The Influence is coming to local comic shops on July 5th! Readers can also subscribe to the full Under The Influence series, which includes all digital issues arriving in their inbox monthly, and the physical trade paperback arriving once available, only available on the the Mad Cave Studios website!