Discover more from 3 Million Years
Digital comics news, reviews and more. With Custard Comix - with a zine about things, comics and more to come!
Higher Ground Adds Music To your Comic Reading
A new reading experience!
This is an interesting idea. With scannable QR codes, you can listen to music while you read this new comic. I like the idea and will be interested in others' thoughts on Higher Ground.
The all-new Broadway musical-turned-comic tells a tale of hope and trust set against the backdrop of climate change, paired with an exciting musical soundtrack for all those who care about the future of the planet.
Acclaimed New York-based songwriter and composer, Peter Galperin (Bulldozer), and LA-based writer Gregg Ostrin (The Soul of Motown), are proud to announce Higher Ground: The Musical, Vol. 1! The first of the upcoming 4-part graphic novel series, this Broadway-musical-turned-comic, features art and letters by Patrick Barrett (The Moon Chronicles), with a uniquely orchestrated six-song tracklist brought to life by embedded QR codes within the pages!
In a future ravaged by global warming, the last colony of survivors in New York City face an impending superstorm. This urgent story explores the intimate relationships between members of a multi-racial and multi-generational group, as they struggle to survive in the only neighborhood in the city still standing. When mysterious strangers arrive, the colony must decide if they are a threat, or a way out.
Higher Ground: The Musical has also partnered with EarthHero.org, WeDontHaveTime.org, PalmOilDetectives.com, and SaveThePlanetGroup.com to help spread the word about human impact on the planet as well as the effects of climate change.
"I found myself getting serious about climate change in 2012, when Hurricane Sandy roared up the East Coast and slammed into New York City, then read an iceberg the size of Delaware had broken off  the Antarctic peninsula, and personally experienced the effects of an extensive fire season in the western United States," said Peter Galperin. "The problem I kept coming up against was that the research and information available online, in books and in the news on climate change was all very science-oriented, making it hard to relate to on a personal level. The story that Gregg Ostrin and I ended up creating is definitely science-based, but our story is ultimately about the friendship, love and trust that connect people to one another. That was true in the past, it's true in the present, and it will still be true in the future. Together, we've enlisted an incredible group of talented contributors to help us turn this unique story into an immersive reading and listening experience that grows more timely everyday."
HIGHER GROUND  Vol. 1, Tracklist:
 
1. "Life Goes On" (Emily Bautista, Kennedy Caughell, Steven Eng, Doug Eskew, Jeremy Kushnier, Brennyn Lark, N'Kenge)
2. "A Better Place" (Emily Bautista)
3. "Another Drink" (Doug Eskew, Steven Eng, Emily Bautista, Brennyn Lark)
4. "Freedom" (N'Kenge, Jeremy Kushnier, Doug Eskew, Kennedy Caughell, Steven Eng, Brennyn Lark)
5. "Not Like You" (Emily Bautista, Jeremy Kushnier)
6. "Hey, What More Could I Do" (Jeremy Kushnier, Kennedy Caughell)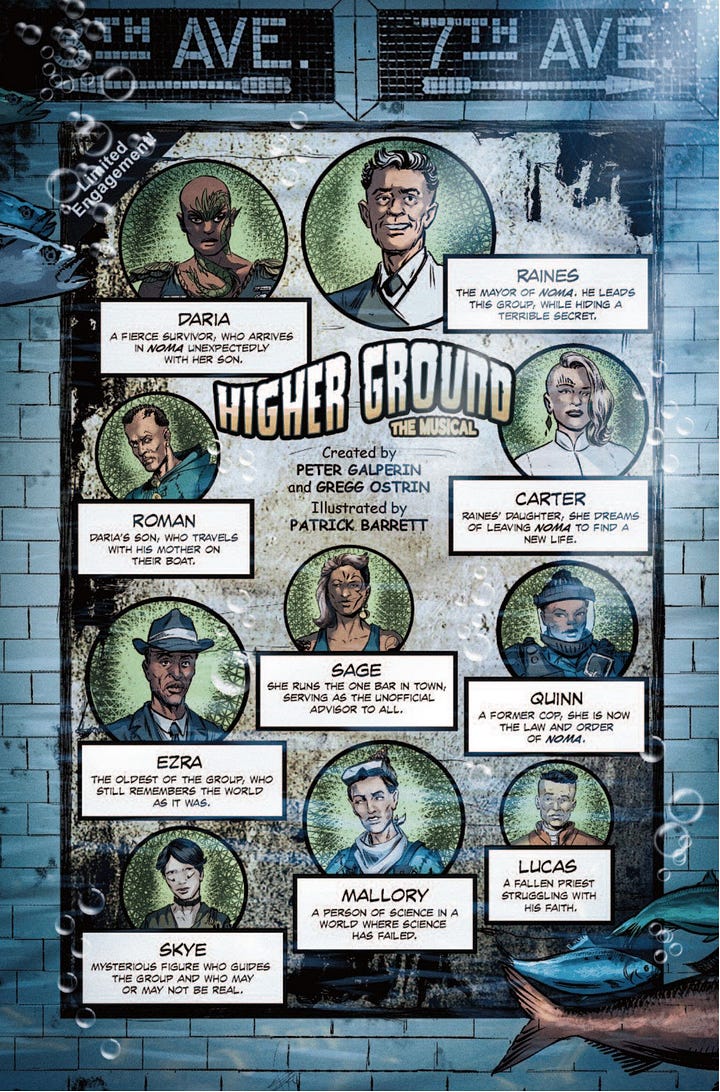 Peter Galperin, a Pacific Northwest native and grunge rock refugee, combines alt-rock, classic rock and bossa nova influences. He wrote and composed the 2017 debut off-Broadway rock musical, Bulldozer, about the life and times of urban planner Robert Moses. 
Film and TV screenwriter, Gregg Ostrin, is a founding member of LA's Scrap Theater.
 
Higher Ground: The Musical, Vol.1 drops April 19, just in time for Earth Day 2023, and is now available for preorder at
https://highergroundthemusical.com/
or at the CWS Bookstore. Subscribe to the Higher Ground mailing list for more information. Tracks will also be available via iTunes and Spotify for digital download upon release.
---