Discover more from 3 Million Years
Digital comics news, reviews and more. With Custard Comix - with a zine about things, comics and more to come!
Investigate 'Charm City' In This New Series
From Scout Comics
Coming on the 19th of July, 2023, from Scout Comics is a new mini-series - Charm City.
Written by Josh Eiserike, who was also the writer of The Very Final Last Girls graphic novel from Darby Pop Publishing. Josh describes this new mini-series as:
…a deeply personal Baltimore-set murder mystery heavily influenced by my time as a music journalist… but with magic! Think JESSICA JONES-meets-HARRY POTTER… and heavily influenced by BATMAN: THE LONG HALLOWEEN.
The art is by Scott Van Domelen, who was the artist on SmokeTown, also from Scout Comics. The Colours are by Lorenzo Palombo, edited by Joshua Malkin and the cover by Hugo Petrus.
Look out for a review from me coming soon!
The Baltimore police are baffled when a Ravens cheerleader is found floating in the Inner Harbor with an arcane symbol carved onto her corpse. And only Alyssia Singer, music blogger at the Baltimore Sun, knows what it means: that a serial killer is targeting Baltimore's underground witching community. Alyssia-an excommunicated witch who no longer uses magic-must decide: take the case and confront her estranged family and long buried demons... or risk more bodies piling up...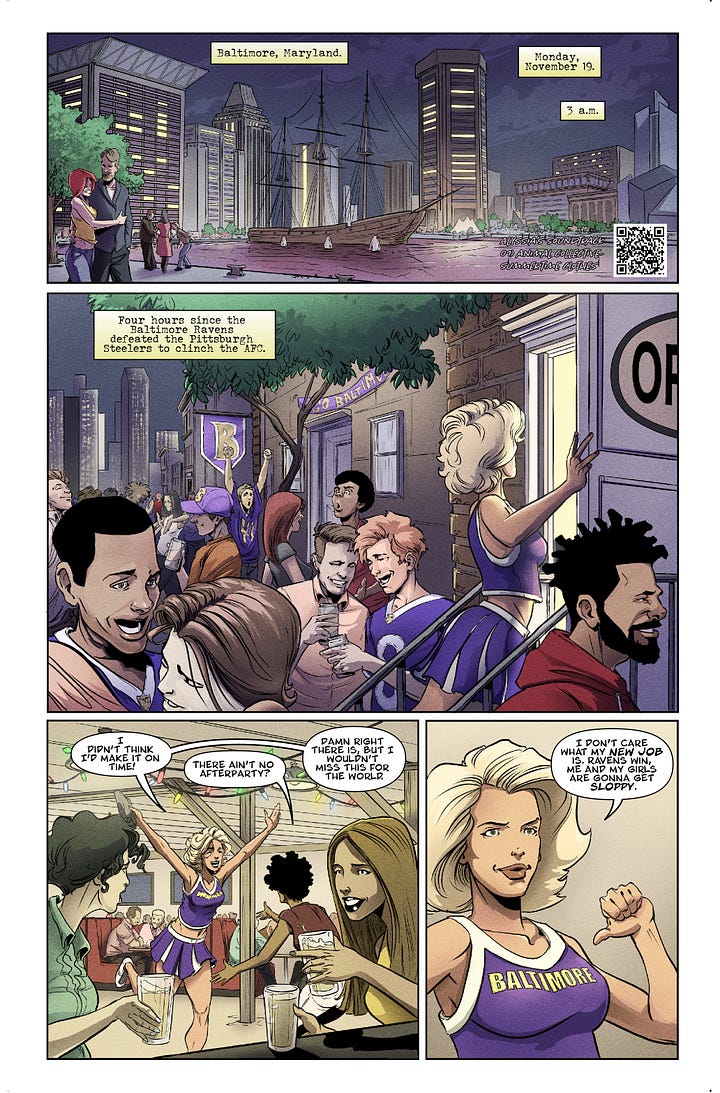 CHARM CITY is rated M for mature, as it contains language, violence and sex.
#1 retails at $4.99 and is due in stores and on the Scoutcomics.com Web site July 19. Previews code MAY231978.
CHARM CITY was the first prize winner of Scout's inaugural Script2Comic competition and I'm thrilled to see my weirdly-specific music journalist/murder mystery brought to life. It's my second published work, behind last summer's THE VERY FINAL LAST GIRLS OGN from Darby Pop Publishing (about the girls who survive horror movies). I've also written for MAD Magazine and my first self-published comic CLASS OF '99 won an Ignatz Award.  
---