Discover more from 3 Million Years
Digital comics news, reviews and more. With Custard Comix - with a zine about things, comics and more to come!
Lowborn High Introduces A New School Of Magic In 2024
HOT FROM NEW YORK COMIC CON 2023: Welcome to LOWBORN HIGH!
From the pages of the 2000 AD Regened editions, Rebellion has announced at New York Comic Con a new graphic novel from the all-ages title. Check out the details of Lowborn High below.
3 Million Years is a reader-supported publication. To receive new posts and support my work, consider becoming a free or paid subscriber.
Revealed at the 2000 AD panel at New York Comic Con 2023, take a look at the brand new cover for the next graphic novel from the 2000 AD Regened Series, Lowborn High! This magical graphic novel for teens, brought to you from the mind of David Barnett and the artistic talents of Anna Morozova and Mike Walters hits shelves in April 2024 ready to enthral a generation of readers looking for their next teen reading saga or mystic fix.
So you've seen the cover, but what is Lowborn High all about? For as long as anyone can remember, Wychdusk Manor has been the school to which all the top magical novices are sent, where they are trained to become the world's greatest wizards. Androgeus Frost, part of one of the wizarding worlds' most esteemed families, always thought it was a sure thing he'd get in, but a bad attitude and even worse grades soon land him instead at Lowborn High.

A struggling inner-city comprehensive school for those with mediocre magical talent, Androgeus finds himself with all the other duds, drop-outs, and those who don't have the upper-class wizarding family background. Making friends with Maisy, Ali and Dril, soon the group of friends find there are mysteries to solve and the pupils of Lowborn High can still be capable of some truly amazing feats!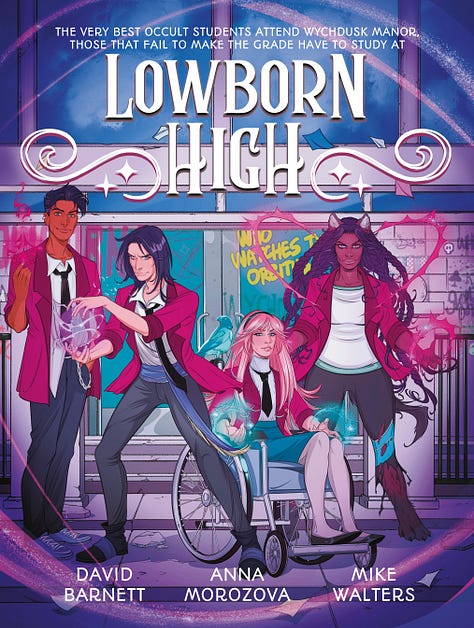 After starring in the All Ages Takeover issues of the 2000 AD Megazine, this magical new addition to the 2000 AD Regened series bring something different to the table of wizardly universes. Inspired by Grange Hill and the idea of what happens to those that don't make it into the grand wizarding schools, Lowborn High is ready for a generation of teen readers wanting something beyond Harry Potter.

Lowborn High is released on 23rd April in the US and 25th April in the UK, and is available to pre-order now on Amazon, the 2000 AD webstore, and wherever books are sold.
---
---