Discover more from 3 Million Years
Digital comics news, reviews and more. With Custard Comix - with a zine about things, comics and more to come!
Mad Cave Studios: Exorcists Never Die & Tales From Nottingham
Two bits of news from Mad Cave Studios
Mad Cave Studios has been on a roll recently, and there are two bits of news coming from the publisher - news on a series, Exorcists Never Die - and more information on their spinoff, Tales From Nottingham.
---
EXORCISTS NEVER DIE
Coming Spring 2023, Steve Orlando and Sebastián Píriz join forces for the latest supernatural Mad Cave series.
Mad Cave Studios is proud to announce Exorcists Never Die, a new six-issue supernatural action series written by Eisner, Ringo, and GLAAD-Nominated writer Steve Orlando (Spider-Man 2099, Wonder Woman), with art by Sebastián Píriz (Transformers Wars End, Stranger Things), lettered by Carlos M. Mangual, with variant cover by Paul Fry (Star Wars).
Syd Miller and Ellen Blair are the world's two premiere combat exorcists—the only problem? After a nuclear break up years ago, they can't stand each other. But when the biggest soul auction in history kicks off beneath Los Angeles, Syd and Ellen have no choice but to come together to raid the HELLSCRAPER, an infernal tower going straight down into the Earth. With thousands of souls on the line, Syd and Ellen must fight their way to the bottom, or die trying.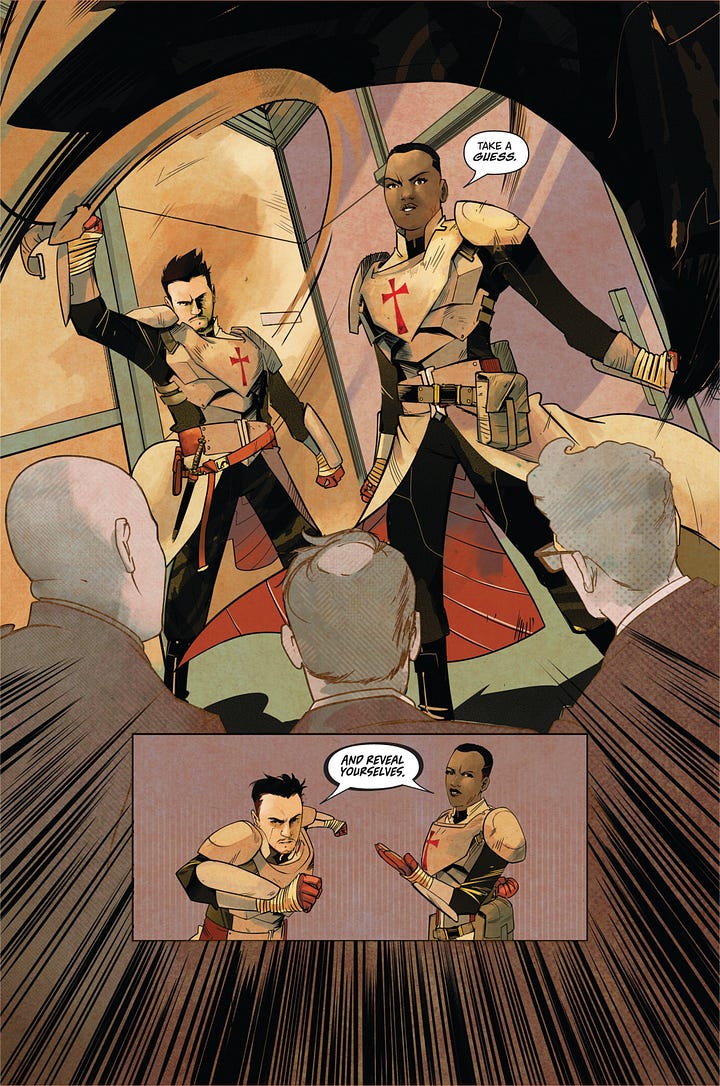 "We're giving you action to the sky in this book, but it's important to me for much more than that. Here's a vivid exploration of biblical mythology, of what it means to fight a war, or even merely survive, in a world where only one side's playing by the rules," said writer, Steve Orlando. "It's about the power of belief—not in the unknowable, but the knowable, the one fighting beside you. And in that unjust environment, we have two masters of their craft on the streets and catastrophes in the sheets, ex-lovers who've got no choice but to overcome the forces that drove them apart if they want to survive the most dangerous exorcism to ever hit the earthly plane."
"First of all, Steve Orlando is writing; He's one of the most talented and important writers in comics, so yeah, no big deal," said artist, Sebastián Píriz. "But then I read the scripts and its a crazy story that mixes terror with, somehow, Shonen and it just works so well! Every page is a cool surprise and I'm having a blast working on it. So, even if you haven't read anything by Steve before, this story is a must read. I mean, Ninja priests exercising demons with super sentai moves... This is the kind of book that made me love comics so much."
Exorcists Never Die #1 hits shelves April 14, 2023.
---
Thanks for reading 3 Million Years! Subscribe for free to receive new posts and support my work.
---
Mad Cave Studios offers a first-look at the upcoming anthology, edited by series creators David Hazan and Shane Connery Volk!
Back in October, Mad Cave Studios announced the Tales from Nottingham anthology series, spearheaded by Nottingham creators, writer David Hazan and artist Shane Connery Volk, which collects 5 unique stories by the winners of Mad Cave's 2021 Talent Search, including Eisner and GLAAD nominated writer Magdalene Visaggio (Kim & Kim, Eternity Girl, Doctor Mirage)! 


Legend has it that in April 1192, Conrad of Montferrat, the King of Jerusalem was felled by two assassins. It was later learned that this was an attempt to sow discord amongst the crusading nations by blaming the killing on Richard the Lionheart. One assassin was captured and died in captivity…The other escaped the Crusaders' grasp. This is the story of Aya's first assignment. This is the story of the day she truly became… Hashashin (Chronology: Takes place in April 1192).
Tales from Nottingham Includes:
Hashashin 

The Curious Case of the Deer in the Nighttime 

Maid No More

The Lord's Work

Secret Origins

Northampton Castle Blues
Tales from Nottingham explores untold stories from the twisted universe of Nottingham, including the secret origins of Robin Hood and the Merry Men, Marian's violent past, Aya of the Hashashin's first kill, and an ordeal that will shake Friar Tuck to his core. Never-before-seen mysteries confront Everard Blackthorne, the Sheriff of Nottingham, culminating in an investigation that will lead directly into the climactic events of Nottingham Vol. 3.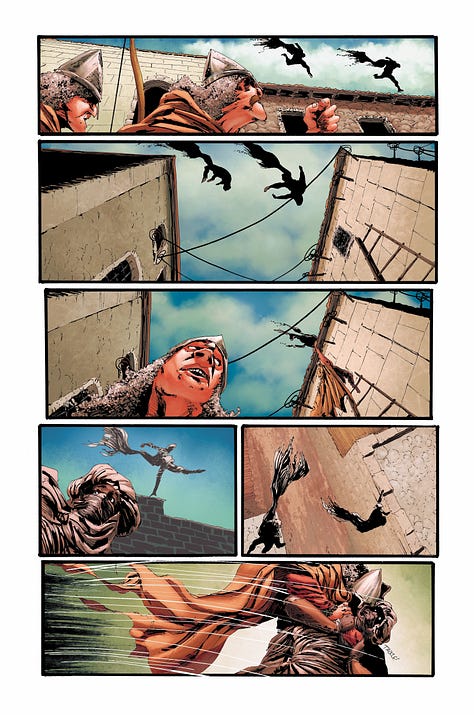 Tales from Nottingham #1 is now available for preorder on the Mad Cave Studios website and slated for release February 1, 2023. Limit to five issues per purchase.
---