Discover more from 3 Million Years
Digital comics news, reviews and more. With Custard Comix - with a zine about things, comics and more to come!
News Round-Up: A New GlobalComix Web Reader, Previews, The Spellbook From Kodansha & FCBD From Mad Cave Studios
A look at the latest news
Here is my first news round-up, giving some of the latest comic news.
---
3 Million Years is a reader-supported publication. To receive new posts and support my work, consider becoming a free or paid subscriber.
---
GlobalComix
introduces a new, improved web reader to read more comics on your home computer.
Here's a list of some of the many improvements to the reading experience:
Redesigned User Interface: A modern user interface design allows us to provide all the details you need clearly and concisely.

Zero Distractions: We've cut through the noise by hiding all UI elements while you're reading.

Add to Library: We're introducing the concept of your reading Library on the web.

Comment While Reading: Share your thoughts, then close the overlay to resume the reading journey.

...and More!
---
Archie Comics has supplied previews for this week's comics, including a new one-shot - Darkling and World Of Archie Digest #135.
---
In manga news,
The Spellbook Library
Debuts Exclusively on
Kodansha.us
.
Kodansha announced today at Anime NYC 2023 the debut of a new english-first Kodansha Reader Portal series, The Spellbook Library, with its first episode available to read now exclusively on kodansha.us. From Uta Isaki—the mangaka behind the poignant asexual coming-of-age drama, Is Love the Answer?—comes a visually stunning fantasy series steeped in magic, adventure, and friendship. The Spellbook Library will see new episodes debut digitally every other Wednesday on kodansha.us—alternating releases with the action / horror Kodansha Reader Portal Series BLOOD BLADE by Oma Sei. Episodes of The Spellbook Library will be available free-to-read for all Kodansha Readers until the debut of the collected volume in print coming fall 2024. Print editions of The Spellbook Library will be distributed by Penguin Random House. 
"I've never really left the area where I live, let alone been to the US. So, at first, I worried about whether I was capable of creating manga for American readers." says Uta Isaki, The Spellbook Library series creator. "But then I remembered all the times in my life when I've drawn on my love of American music and movies in creating my own work. Now, I'm working hard to put all of that into manga form for you. Manga has a way of transcending differences in culture and ways of thinking. I'd be very happy if this manga touched your heart." 
"We are very excited to work with Uta Isaki to serialize their new manga, The Spellbook Library, as our latest Kodansha Reader Portal Series," says Alvin Lu, Kodansha USA Publishing President & CEO. "Isaki-sensei is a tremendous talent, who has already proven their thoughtful storytelling abilities with Is Love the Answer?, will no doubt excite fans with their latest fantasy adventure available to read right now."
In the world of The Spellbook Library, spellbook librarians protect townsfolk from dangerous spellbeasts, sealing them in spellbooks that hold more than just magic. When he was a child, troublemaker Yan was attacked by a ferocious spellbeast—until he was rescued by a group of spellbook librarians. Inspired by the librarians' heroic efforts, Yan vows to turn over a new leaf and become a spellbook librarian to repay their kindness. On the day of his employment exam, he meets Tohru, a mysterious young boy who has his own reasons for wanting to work at the library. Together, Yan and Tohru set off and join the ranks of The Spellbook Library, and begin the long journey to learn just what it takes to become a spellbook librarian! 

The Spellbook Library is the latest all-original Kodansha Reader Portal Series to debut and serialize exclusively on kodansha.us. BLOOD BLADE by Oma Sei, announced at Comic-Con International, began serialization in September 2023 and will see a print edition of volume 1 in winter 2024.

The new Kodansha Reader Portal allows new and existing manga fans to read exclusive Kodansha Reader Portal series, buy digital manga with greater ease, sample extended previews of hundreds of Kodansha series, take advantage of exclusive discounts, and much more. To experience the full benefits of becoming a Kodansha Reader, visit kodansha.us and sign up for a free account today.
---
Mad Cave Studios
has announced its
Free Comic Book Day
titles.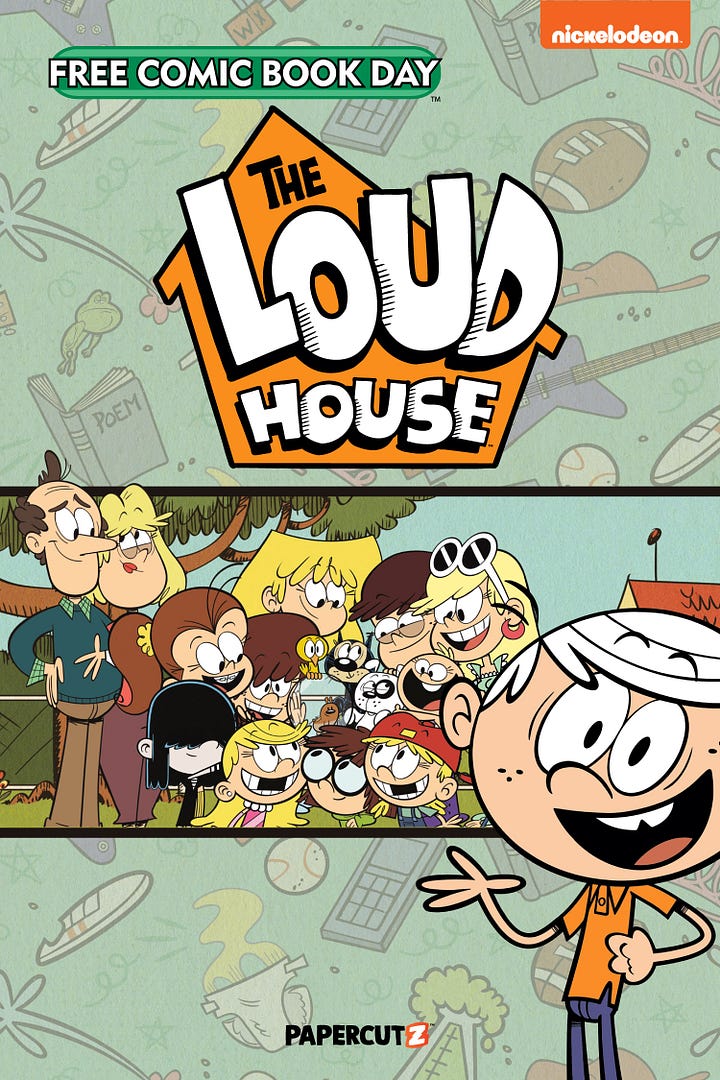 Mad Cave Studios is excited to announce its 2024 Free Comic Book Day titles including FLASH GORDON and GATCHAMAN, and Papercutz titles ASTERIX and Nickelodeon's THE LOUD HOUSE! 
Free Comic Book Day (FCBD) is the biggest event in the comic book industry—a single day when participating comic book specialty shops across North America and around the world give away comic books absolutely free to anyone who comes into their shops! Founded on the belief that for every person out there, there's a comic book they'll love, the annual event offers a huge selection of free titles designed to appeal to a broad range of age levels and their tastes.
---
---