Discover more from 3 Million Years
Digital comics news, reviews and more. With Custard Comix - with a zine about things, comics and more to come!
Noir Caesar Entertainment & Tokyopop Team Up
Bring A New Comics Publishing Initiative
Some news on new graphic novels coming in print and digitally from
Noir Caesar Entertainment, a black-owned indie creative company that supports and nourishes content from marginalized communities across various media, announces the forthcoming release of manga-inspired graphic novels to be published in an initiative powered by the iconic publishing brand, TOKYOPOP, beginning this summer.
Utilizing TOKYOPOP's extensive channel distribution network, digital marketing resources, and production expertise, Noir Caesar kicks off this collaboration with the print and digital release in July of the coming-of-age martial arts drama, XOGENASYS, and the sci-fi adventure, PRIMUS 7. This will be followed in August by the launch of the gritty crime and redemption saga, TRY AGAIN.
Additional new titles will be announced for release by Noir Caesar and TOKYOPOP in coming months. 
Noir Caesar Entertainment was founded by self-proclaimed "blerd," pro athlete, and entrepreneur, Johnny O'Bryant III, who grew up a fervent lover of comics, anime, and manga. He attended Louisiana State University and was drafted into the NBA. But his passion for anime and manga never diminished and led to the founding of Noir Caesar in 2017 with a focus on bringing diversity to anime and manga and to developing original stories by BIPOC creators.
As BIPOC creators and entrepreneurs in the pop culture space continue to gain prominence, Noir Caesar is poised to be a prominent brand in this burgeoning arena and epitomizes a dynamic mix of creativity, vision, and entrepreneurial spirit.
Details on upcoming Noir Caesar / TOKYOPOP Summer 2023 releases: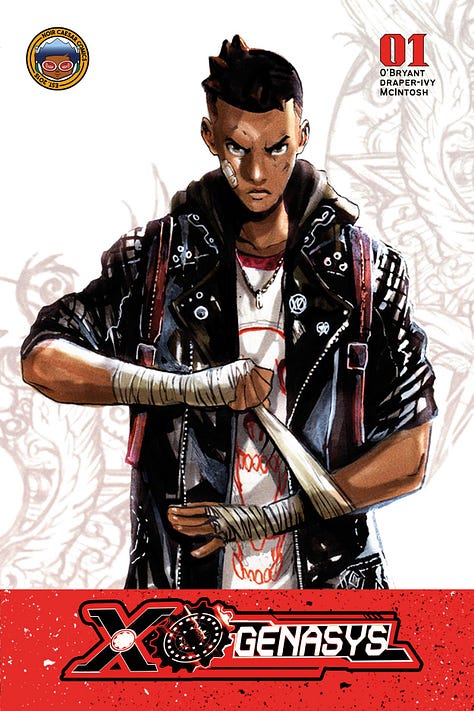 XOGENASYS Vol. 1, written by Johnny O'Bryant & Tre Mcintosh, artwork by Nikolas Draper-Ivey · Print SRP: 13.99 · 264 pages · ISBN-13: 978142787329 · Available July 25th
The future has grown into a decadent, overcrowded gang-ridden cesspool. If you're not living uptown, you might as well be dead. Such is the case of Darius Smith, an artistic youth living in the hood, doing his best to avoid trouble and live life. Unfortunately, Darius has a hidden talent - he's an explosive fighter! This makes him the target of many gangs and pits him in many brawls, landing him in the sight of the honorable Timothy Mustafa, powerful prince and owner of one of the most successful XOGeneSYS teams in the country. XOGenaSYS is a successful gladiator sport fought with powered exoskeletons, and Mustafa wants Darius to become the next new fighter! Can Darius become the next champion, or will he fall like so many before him?
PRIMUS 7, Vol. 1, written by Johnny O'Bryant, Vaughn Alexander & Marcus Johnson · Print SRP: 13.99 · 194 pages ·  ISBN-13: 9781427873286 · Available July 25th
The peace of Primordia is maintained for years by the Marine Corporation until one of its most prominent members, a man by the name of Arthur Grove, betrays the organization and those that took him in as family (Jarobi & Sevar Ajamu). 
By secretly creating a synthetic form of Orii, Arthur can obtain the power necessary to overthrow the government and install himself as dictator. A resistance movement lead by Sevar Ajamu fails stop Grove and his reign as ruler leaving behind his two sons to take his place and carry out the unfinished mission, Eliminate Arthur Grove! 
TRY AGAIN, Vol. 1, created by Will Brown; written by John Lawrence, Marcus Kwabena; artwork by Win Dolores  ·
Print SRP: 13.99 · 194 pages · ISBN-13: 9781427874054 · Available August 22nd 
As a member of the Cacciatore Guild, Danielle Burroughs is one of the Underworld's most renowned hitmen. Despite her success, memories from her past bleed into the present - forcing her to reconcile the life she now leads. Attempting to leave it all behind, she soon realizes that even atonement has a price.