Discover more from 3 Million Years
Digital comics news, reviews and more. With Custard Comix - with a zine about things, comics and more to come!
Origins Begins In Judge Dredd Case Files 43
Pre-Order Now
From Rebellion is the latest volume of the all-encompassing Judge Dredd stories in Case Files 43. This volume begins the classic Origins storyline, so it's well worth jumping in here.
The Mega-Epic ORIGINS Begins in Judge Dredd Case Files 43
Judge Dredd Case Files 43 is available for pre-order now, including the beginning of a classic story: Origins, by Dredd's creators John Wagner and Carlos Ezquerra!

In this volume of the best-selling Complete Case Files series, Dredd uncovers the House of Pain, a no-way-out, brutal torture prison for serial perps, and must stop Orlok from spreading a lethal bio-virus – from beyond the grave! And, after a mysterious package is delivered to the Grand Hall of Justice, Dredd ventures into the Cursed Earth in search of answers that will unveil the history of the Judges, and their ascent to total power.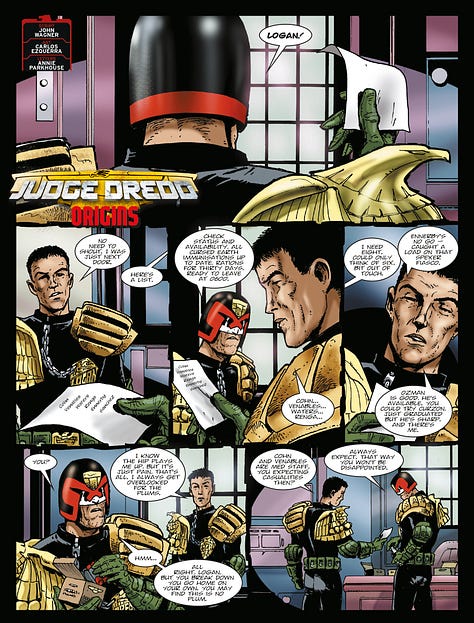 Written by John Wagner (A History of Violence), Gordon Rennie (Warhammer), John Smith (Devlin Waugh), and Simon Spurrier (Hellblazer, X-Men), with art by Colin MacNeil (Strontium Dog: The Final Solution), PJ Holden (Fearless), Laurence Campbell (BPRD: Hell on Earth), Simon Fraser (Nikolai Dante), Paul Marshall (Tharg's Future Shocks), Peter Doherty (Superman/Batman: World's Finest), Inaki Miranda (Fables), and Lee Garbett (Loki: Agent of Asgard).

Judge Dredd Case Files 43 will be available for pre-order from 6th September 2023, followed by a full release into stores and online on 18th January 2024.
---