Discover more from 3 Million Years
Digital comics news, reviews and more. With Custard Comix - with a zine about things, comics and more to come!
Osamu Tezuka Manga Coming To Ablaze
Four New Titles
Ablaze Publishing has announced a new selection of manga titles coming to the publisher from Osamu Tezuka in the second half of this year.
One Hundred Tales – slated to launch August 2023

Shakespeare Manga Theater – slated to launch in Q4 2023

Tomorrow the Birds – slated to launch in Q2 2024

Neo Faust – slated to launch in Q4 2024
---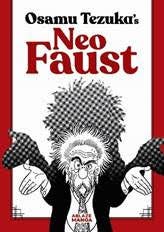 This is the first time any of these works will be published in English. Osamu Tezuka is known worldwide as the most influential person of the past century in the development of manga and anime. A medical school graduate who pursued a career in comics instead, Tezuka's early success in the years following WWII inspired generations of artists and propelled the burgeoning manga industry. Over his lifetime, the "Godfather of Manga" drew tens of thousands of pages in approximately 700 titles for a wide variety of readerships.
One Hundred Tales - August 2023
An adaptation of the Faust legend as a samurai period piece. Ichirui Hanri is an ordinary accountant servicing his lord. Though innocent, he is sentenced to death by hara-kiri after being entangled in a power struggle. A witch named Sudama appears and offers Hanri three wishes in exchange for his soul. Hanri accepts. Is it worth it?
Shakespeare Manga Theater - Q4 2023
Over the course of his career, Tezuka adapted many of Shakespeare's works: Hamlet, Othello, The Taming of the Shrew, Macbeth, Romeo and Juliet (featuring Astro Boy!), and The Merchant of Venice. This book collects them into one volume and is sure to be popular not just with Tezuka fans, but also schools interested in presenting Shakespeare in a format that is easier for readers to engage with.
Tomorrow The Birds - Q2 2024
A science fiction manga depicting a future society in which evolved birds surpass humanity, Tomorrow the Birds is a parable about how we treat those who aren't like us, and the eventual price that must be paid for arrogance. An unforgettable tapestry of seven-page chapters and longer stories.
Neo Faust - Q4 2024
This adaptation of Goethe's Faust is Tezuka's third rendering of this classic and one of the serializations he was working on at the time of his death. Despite being terminally ill, Tezuka continued to develop his already legendary storytelling and illustrations and left behind this enthralling take on a timeless theme.
---