Discover more from 3 Million Years
Digital comics news, reviews and more. With Custard Comix - with a zine about things, comics and more to come!
Plainer Jane Returns To Kickstarter In A Full Colour TPB
From Broken Face Comics
This will be one of those occasions where I will get the collected edition while also having individual issues. With the success of the Plainer Jane series, the collected edition in full colour is coming to Kickstarter!
The full colour complete edition of the critically acclaimed comic book series Plainer Jane is here!
The darkly comic story of Jane Pearson, a seemingly ordinary teenage girl who becomes a brutally efficient killer for hire.
With no training or special skills, just her own cunning, brutality, and fearlessness, Jane leaves a trail of bodies behind her. Ultimately going head to head with the feared and secretive criminal gang The Nexus, in a war that could ultimately cost not only her life but the lives of everyone she loves.
A real world comic book set in modern day Manchester.
There has been a LOT of work done to make sure that this complete standalone book is worth owning, even if you have all the original issue.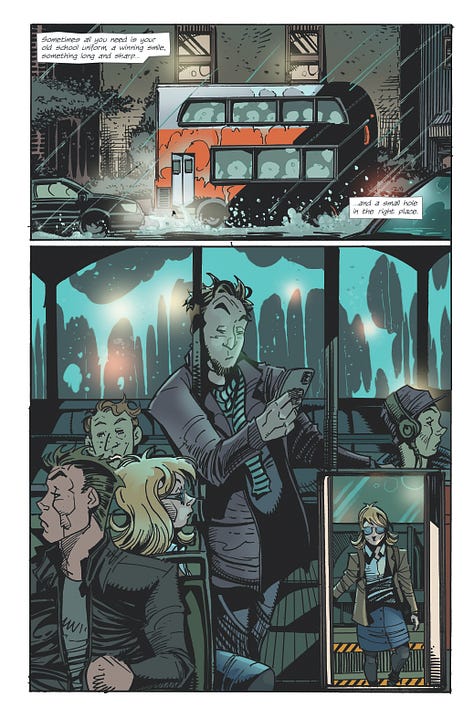 Every page has been coloured by Linda Scott Campbell. They look incredible as you can see from the samples.

The original issues have all been completely redrawn by Samir Simão, so the art is consistently fantastic throughout. With the same artist from start to finish.

The book has been fully re-edited and re-lettered to improve the overall pacing.

Several extra pages have been added to the final chapter, adding an exciting new dimension to the ending.

Lots of character art and other bits and pieces have also been added.
This really is the ultimate edition of the book.
Format: US standard trade paperback book. 148 pages (approx), perfect bound, 170gsm gloss laminated cover. Printed by Comix Well Spring in the US and Canadian and Mixam Print in the UK, Europe and ROW.
The Team:
David Wilburn (Writer, creator): After spending 20 years working as a Guinness World Record breaking escapologist, sword swallower, and stuntman (David Straitjacket, look me up!), I decided to return to my first loves, music and comics. I began publishing my last book during the pandemic and am now thoroughly addicted to the creation of fantastic comics.
Samir Simão (Sequential art): Samir is a professional penciller and inker from Brazil, with years of experience making comic books for companies like Scout, Mythos, Insane Comics, Killer Comics and others around the world. Titles he has worked on include: The Nobodies - Mytho, The Devil Tree, The Magnificent Bastards, Killer Instinct, Miss Conduct, Speak no Evil, Sweet and Saulty, Children of the Rain, Anarchy Beyond the Walls, The Zee Brothers Zombie Exterminators and more.
Tim West (Logos, lettering, print layout): Tim has been working in indie comics for over a decade. Designing amazing logos, writing, lettering, editing, blogging, and more. He has published his own book, 'Get Woke', as well as the indie anthology Killer Bytes. He also teaches comic book lettering and design via his youtube channel.
Ralf Singh (Front Covers, Colourist): In 2014 Ralf dropped out of university to pursue his passion for drawing comics. Since then he has published comics for numerous publishers in Germany, the USA, and Italy. Among them is his very own comic Zinnober which sold 8,000 copies world-wide.
Linda Scott Campbell (Colours): Linda loves using colour to help bring to life the worlds built by the writer and the artist. She lives the west coast life on beautiful Vancouver Island, Canada along with her family and crazy golden retriever. Her published works include Project I.M.P.A.C.T., No Service, The New Amsterdam Game, and Everything is Different Now.
Donna A Black (Rear Covers): Donna is a mixed media artist specialising in comic art and covers, including the critically acclaimed Deadliner. Originally trained as a photographer she uses her skill with lighting and composition to give her mixed media artworks a very unique look and feel. She has been involved in many group shows and major solo shows across Ireland and the UK.
---