Discover more from 3 Million Years
Digital comics news, reviews and more. With Custard Comix - with a zine about things, comics and more to come!
Portals & Black Goo coming to 2000 AD
A new story from Rebellion
Coming to the upcoming issue of 2000 AD from Rebellion is a new story - Portals & Black Goo.
"Delicious prey, a click away"
What do monsters eat when they're not feasting on us? A brand new new horror comedy series satirises zero-hour capitalism is coming to 2000 AD.

Portals & Black Goo is a new seven-part series from John Tomlinson (Judge Dredd) and Eoin Coveney (The Alienist), beginning in 2000 AD Prog 2340 – out on 12 July from all good newsagents, comic book stores, and the 2000 AD webshop and apps.

In a world where monsters live amongst us, what happens when they get a little snacky? 'Devouroo' specialises in the particular foodstuffs specially suited to their clientele – vampires, werewolves, and demons. All they have to do is order through the special app, orders broadcast through eldritch resonances that generate temporary portals large enough for a bike – so it's one for pickup, one for delivery.

And when the job market is more perilous than ever, you'll take any job that comes along!

Kroy Plemons is a Devouroo delivery driver, who has to overcome the obstacles and perils of working the kind of zero-hours shift that can often be … lethal to his own health. From bags of fresh plasma for vampires, bloody bones for djinn and steaming viscera for werewolves, Kroy delivers it from the back of his moped – all while dealing with a haemoglobin-intolerant vegan vampire, a self-styled vampire hunter, claim-jumping delivery riders from rival service DaHunga and so much more!

Portals & Black Goo is the SF horror strip with a streak of mordant humour, incorporating a cast of hunger-maddened night creatures as predators and misfits of ancient legend struggle to integrate with a tech-driven post-modern world.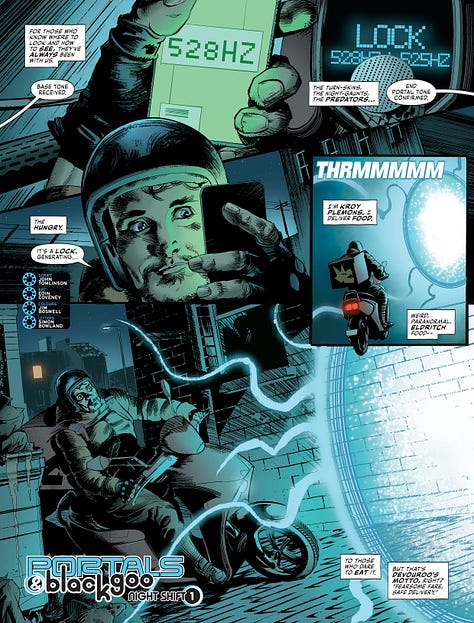 Influenced by classic British characters such as Cursitor Doom, as well as modern films like Attack the Block and Shaun of the Dead, Tomlinson, Coveney, colourist Jim Boswell, and letterer Simon Bowland have crafted a contemporary horror comedy with real bite!
Matt Smith, editor of 2000 AD said: "I thought John's pitch was very interesting, combining comedy-horror with social satire of the zero-contract culture and the prejudice a section of the populace can face, and Eoin has brought the creatures to life wonderfully, giving them real character."
John Tomlinson said: "I wanted to combine SF and horror in a familiar urban setting, and it all came together one night when a confused Deliveroo rider stopped me for directions after his phone conked out. Walking home after, it struck me that they must have to deliver to some pretty scary places and people. Later I scribbled down the line 'Hungry Horrors: food delivery for children of the night. Charnel@£1.99!' The basic series premise for Portals & Black Goo soon followed.
"I've always thought that the best comics artists are also actors, and Eoin has really brought the characters to life. Enhanced by Jim Boswell's suitably creepy colours he's done an amazing job – the characters and settings are very 'real', thus making the fantastical elements more convincing. I couldn't be happier with the finished result."
Eoin Coveney said: "After several read throughs of John's script, I was struck by the sensibility; an intriguing combination of horror, comedy (I laughed out loud on several occasions!) and the simple drudgery of making one's way in a big city.
"Big cities at night are quite intimidating, I think. The smells of rubbish and traffic fumes along with the constant noise create quite an unnerving atmosphere and I strove to capture that.
"Inner cities in particular have really odd and sometimes surreal landscapes- those narrow dark alleys with lots of old drain pipes, spiked fences and piles of all kinds of strange rubbish are really atmospheric and spooky.
"I must also pay tribute to Jim's fantastic colouring. I knew I had to use quite a bit of spot blacks to sell the nighttime atmosphere but was slightly concerned that a colourist might use muddy colours which could obscure some of the linework. Jim fed me some details as he worked through it and I was so impressed and happy with his work. I'm excited to see it in print and also to hear what the readers think!"
Grab this issue and more from your local comics shop or newsagent – find your nearest stockist with the 2000 AD storefinder at 2000AD.com/store-finder or locate your local comic book shop at ComicShopLocator.com.

To read 2000 AD, the Judge Dredd Megazine, Monster Fun, fiction ebooks, and hundreds of graphic novel collections, download the 2000 AD app for iOS and Android devices. As well as reading a host of free comics, can read your purchases in the app or download them as DRM-free files from the 2000 AD webshop.
---