Discover more from 3 Million Years
Digital comics news, reviews and more. With Custard Comix - with a zine about things, comics and more to come!
Pulp Mystery In Junction Jones And The Corduroy Conspiracy
From Scout Comics
For fans of Moebius and the Hernandez brothers, comes a unique dystopian sci-fi tale that mixes cyberpunk with a jazz era silent film, coming 2023 from Scout Comics
Scout Comics has announced a new series coming in February 2023. It certainly looks an interesting mix, and I'm sure will have a bright future. check out the details and the preview images below.
A bio-engineered laborer manufactured with the sole purpose of being worked to death in the seedy city underbelly…
Grab your absurdist lens! Announcing Junction Jones And The Corduroy Conspiracy, the all-new gritty pulp mystery series, written by TC Pescatore (The Boxcar Bop), with illustrations and cover by up-and-coming Argentinian artist Luciano Cruzado, and variant Covers by underground artist Patrick Sparrow (Dirt Baby & Bone Cat) and Ewan McLaughlin (Fairyland). 
Thanks for reading 3 Million Years! Subscribe for free to receive new posts and support my work.
In the derelict slums of the multidimensional town of Junction, Mister Nibs and Junction Jones scour the dangerous alleyways in search of illicit organic material to sell off at the local black market chopshops and transmutation garages, until an anonymous tip leads them to the remains of a murdered Earth hobo. The evidence they uncover on the body points to a vast government cover-up, a conspiracy of which they're now inexplicably at the center. Their first instinct? Run and hide! But a suspicious maintenance team that just so happens to arrive at the same time, looking for the same body, may hamper that. In the ensuing stand-off Jones decides the best option may be a joke; will it fall flat or land?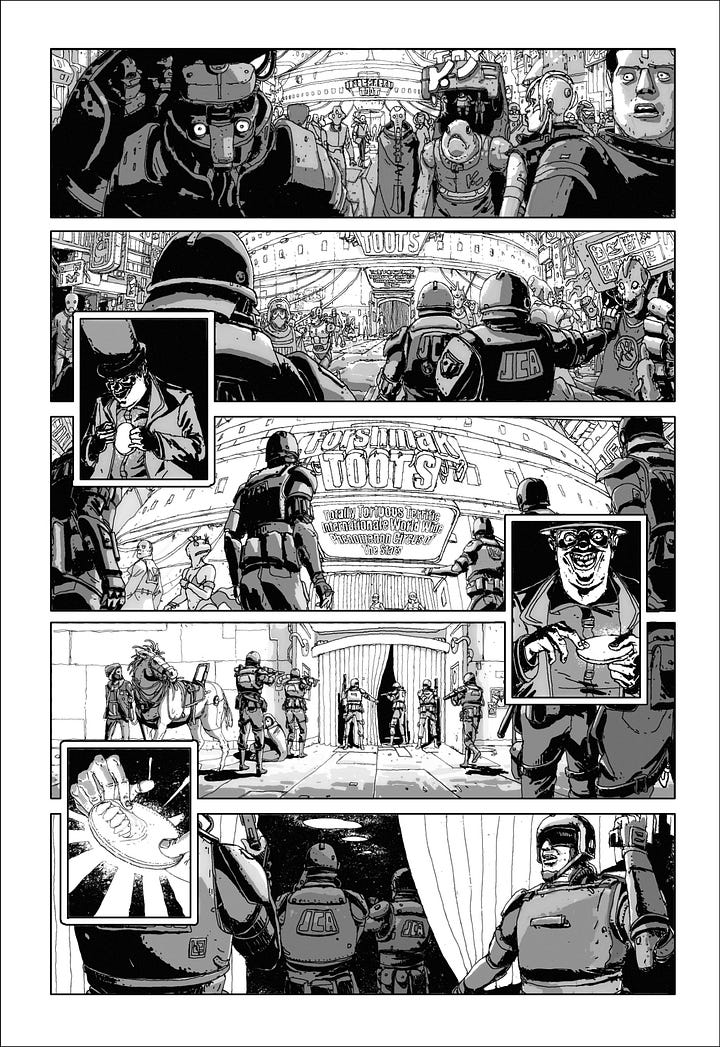 "This story began life as a surrealist pulp novella, a small exercise in understanding the great mythological history of an unknowable and lost America," said writer TC Pescatore. "Through the creation of tall tales and legends detailing the secret history of hobos I had hoped to grasp at and maybe find a piece of the wonder that comes from hearing the ghostly bellow of a distant freight train at night—after meeting Luciano all that all changed. His vision, talent and intuitive understanding of the world of Junction propelled the project into new territories. Together we built a meta-textual graphic experience, an absurdist hard Sci-fi noir that not only touches on Hobo and labor history in 20th century America but in a way time, space and all of reality itself. Pages filled not only with brilliant comic artwork but retro advertisements, journals, records, zines, pamphlets, blog posts, and more—all in service of creating a fully immersive and mysterious world to enjoy."
Fans of Moebius and the Hernandez brothers won't want to miss this unique dystopian tale. Junction Jones And The Corduroy Conspiracy #1 is from Scout Comics hits shelves Feb. 22, 2023.