Discover more from 3 Million Years
Digital comics news, reviews and more. With Custard Comix - with a zine about things, comics and more to come!
Tales From The Quarantine ... Is Dead
TFTQ Is Not Happening
Where to start? First, a quick recap of the ongoing problems can be found here:
and here:
Now first things first, before I get into all of this. Some people have said that this ongoing saga has caused them not to back crowdfunding projects. This is a shame, and this isn't the first project that I have been burned by1, and I am sure there will be others in the future. With this in mind, though, the most successful projects I have backed have delivered. There are some good people out there with amazing projects - don't let this get you down on all of them.2
---
Now onto the meat of the post.
We had been told that there had been 160 of the softcovers posted before Christmas. There has been no evidence of this happening. I have scoured the web with Instagram, Reddit, TikTok, Twitter, Mastodon and more and have found exactly zero posts of people proudly (or not) displaying their book. Even smaller projects manage this. We were also told that the remaining books were to be posted, and if we didn't receive a copy by mid-February, we were to contact Red Cabin Comics.
I was away for a few days last week (including the 14th of February), and when I returned home on the 18th, a little pile of books was waiting for me.
Tales From The Quarantine was not among them…
So I contacted Red Cabin Comics:
I'll go ahead and get straight to it. I am a backer of the softcover of Tales From The Quarantine. Initially, we were told that some had gone out before Christmas, then the rest would have been sent out and if we had yet to receive them by mid-February to contact you. 

This is me contacting you.

Not only have I yet to receive my copy but there is no evidence of anyone else getting a copy. Other than the digital version of the 'floppy' and two people I have seen receiving a physical version, there is no evidence that this exists. 

What on earth is going on? There are people who have submitted their stories, and then there is the question of the money that has been pledged and paid in good faith - of which the profits were going to various charities.

What I will be doing is writing another article next week. This will be featuring people's discomfort and annoyance in the whole situation, but - I want to give you the chance to reply, and provide an update and explanation on what is happening and where peoples books are and where the money is gone.
I think this is fair enough - hopefully, some response, perhaps a tracking number, or something from a human at the very least. I also wanted to give you a chance to reply - with the option to give another side to the story. I shared this letter across social networks, even contacting people I know over Facebook to try to reach out. What I got was the auto-response below:
Thank you for contacting RED CABIN COMICS
We are incredibly busy shipping our latest book TALES FROM THE QUARANTINE around the globe.

We are a small team, which means it could take a day or two to respond to emails at present, we apologise for any inconvenience.

Our operating hours are:
MONDAY        9am - 5pm
TUESDAY       9am - 5pm
WEDNESDAY 9am - 5pm
THURSDAY    9am - 5pm
FRIDAY           9am - 5pm
SATURDAY     CLOSED
SUNDAY         CLOSED

TALES FROM THE QUARANTINE:
If you are enquiring about shipping of TALES FROM THE QUARANTINE shipping has already begun:

Posters and other merch are shipped
Single issues are shipped
Digital single issue 'shipped'
Softcovers 50% shipped

Hardcover, Deluxe and all remaining pledges will continue to ship throughout January until complete.

Have a happy new year.

TEAM RED CABIN
"Happy New Year"? When was this email created? Plus, it says that 50% of the softcovers have been shipped!
On the 13th of February, Frazer Brown posted the following on his Facebook:
The last log-in from creator Frazer Brown was on the 17th of February, although there has been no update on the page since the 28th of January.
Anyone can see the comments and the threads within - this includes the creator and Kickstarter themselves. Kickstarter has been contacted, and complaints have been made using the reporting procedures within. It appears that Kickstarter's Trust and Safety team are looking into it, and at the time of writing, there has been no update.3
There is also the charity aspect - this was supposed to be funding with net profits going to charity. Those profits must be pretty big, as it seems nothing has been printed. At this time, there has also been no evidence of any charity being passed money.
So what has been received? At my count4, I have found four people who have received something physical: posters, cards and the single floppy issue.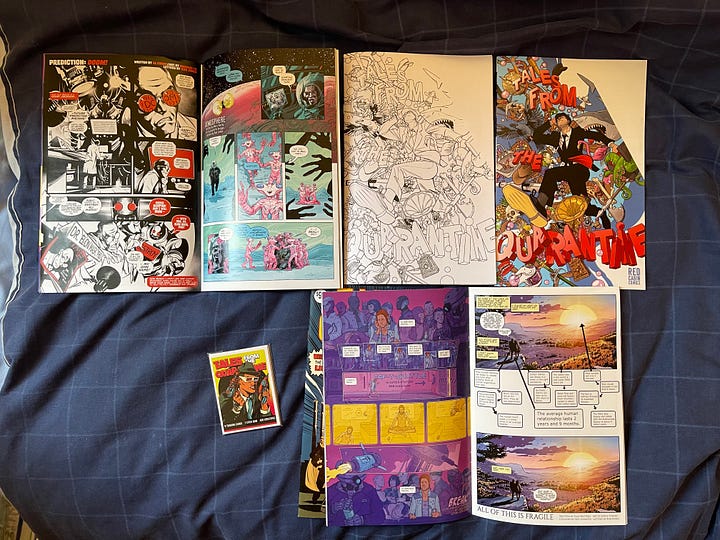 The above was from someone who had backed the 'super deluxe tier - £190. This is not what they backed.
A digital version of this 'floppy' was sent out late last year - a show of good faith.5
Tales From the Quarantine also has an IMDB page set up.6
So who has been affected?
Backers - £37,000 has gone AWOL - this money, at least most of it, appears to have disappeared. It certainly hasn't had much of it used on printing costs.

Creators - Independent creators, new creators and professionals put in their time for free for a charity project in a time of hardship for all. Some of those were going to use these pages for portfolios. There is a plan for a special print run of the artwork to be used in a special book to be used for this.7

Charities - A selection of charities would benefit from these sales.

Kickstarter/Crowdfunders - Their reputation has taken a bit of kicking, which has a knock-on effect on genuine creators and projects.

Frazer Brown - Yes, even him. for whatever reason, this has all gone wrong. Why? I couldn't say, but Frazer - if you are reading this or know him - get in touch…
1
Although it has been the most frustrating
2
Am I overly optimistic? Probably
3
I am dubious about how much Kickstarter will do here
4
This figure may be slightly more
5
There is no more good faith
6
Make of that what you will…
7
If you are one of those creators and want to be involved, please contact me, and I can put you in touch with the team.