Discover more from 3 Million Years
Digital comics news, reviews and more. With Custard Comix - with a zine about things, comics and more to come!
Tom Petty Is Featured In Dreamville
A new graphic novel
Tom Petty's Dreamville: A Graphic Novel is coming in September 2023 from University Press of Florida. This should be interesting, and it seems there has been an increase in the biographies of musicians lately. This should be something for fans.
"A fantastic introduction to the story of one of rock's great icons. Told with the aid of Frattino's breezy four-color deft and slick cartooning style, this book goes down as easy as any Heartbreaker tune." —T.J. Kirsch, co-author of Willie Nelson: A Graphic History
From "Free Falling" to "You Don't Know How It Feels" it's the story of a rock legend!
University Press of Florida is proud to announce Tom Petty's Dreamville: A Graphic Novel, written and illustrated by award-winning creator Andre Frattino (A Land Remembered: A Graphic Novel; Tokyo Rose: Zero Hour). This all-new graphic novel follows the story of the late singer-songwriter through his formative years in his hometown of Gainesville, FL, during the 1970s; curated through personal interviews with several of Petty's key friends and fellow musicians.
This graphic novel of rock superstar Tom Petty recreates the beginnings of Petty's music career, from his Southern childhood and his first guitar to the early milestones he reached in Los Angeles with the Heartbreakers. Bringing to life Petty's hometown of Gainesville, Florida, in the 1960s and '70s with illustrations that capture the era, Andre Frattino focuses on the struggles and successes Petty experienced in his journey to fame.
Rich with artists who influenced the young Petty, from Elvis Presley and the Beatles to future Eagles guitarist Don Felder. It follows the creation of Petty's first bands including the Sundowners, the Epics, and Mudcrutch, whose members Mike Campbell and Benmont Tench went on to become founding members of the Heartbreakers, and it shows Petty navigating friendships and relations with his family while pursuing his goals. Frattino's artwork draws readers into Petty's world, portraying places such as Lillian's Music Store, Lipham Music, the University of Florida, and the many small-town venues where Petty won fans and built a following.       

Tom Petty's Dreamville depicts the talent, vision, and determination of a legend in the making who didn't back down in the face of obstacles as he reached rock history. This look into a formative place and time in Petty's life will delight longtime fans and inspire music hopefuls who may also be running down a dream. 
"Tom Petty's origin story felt like a road trip adventure, with our hero encountering many pitfalls and peaks on his journey to discover himself and his music," said creator Andre Frattino. "It was unlike any rock star origin story I had ever heard, and it happened in my own backyard! It wasn't so much an interest to me to tell this story…as it was a dream."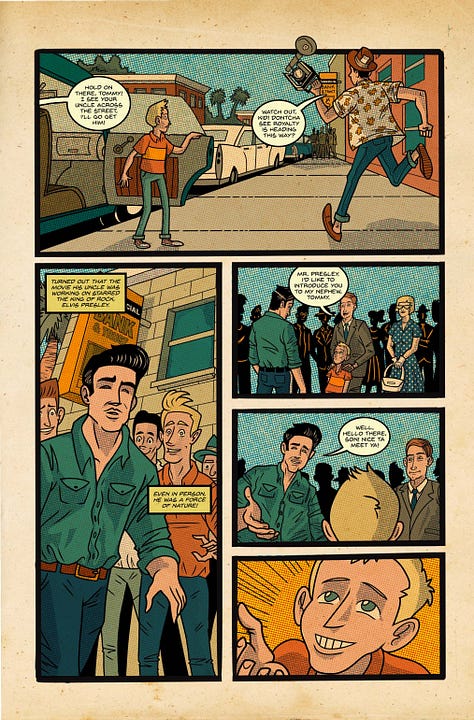 For longtime fans of Tom Petty and aspiring musicians alike, Tom Petty's Dreamville: A Graphic Novel is a comic for fans of BOWIE: Stardust, Rayguns, & Moonage Daydreams, Elvis: The Graphic Novel, Willie Nelson: A Graphic History, The Grateful Dead Origins, Blondie: Against the Odds, The Dirty: Declassified, and even more great rock and roll biographies!
 
Tom Petty's Dreamville: A Graphic Novel hits shelves September 2023, and is now available for preorder on the University Press of Florida website. Check out Andre Frattino's website for more information, or follow Andre on Twitter.