Discover more from 3 Million Years
Digital comics news, reviews and more. With Custard Comix - with a zine about things, comics and more to come!
Tuned From TPub Coming To Kickstarter
Check out my thoughts, plus a special preview!
Coming soon to Kickstarter is Tuned - a new graphic novel from TPub. Below are my thoughts on this new comic and a special preview to get into the mood for this excellent book.
People change. It's natural.

Project Coventry was meant to change people for the better, but it ended in tragedy. The project was shut down and everyone moved on, or so everyone thought.

Frank Scalera, alone started to suffer unimaginable hardship and wanted justice for the changes in his life. But the tuning process of Coventry changed Scalera's mind beyond recognition, and his desire for justice has morphed into a desire for revenge. And with his new powers, he's starting to get a taste for inflicting pain…

Writer & Creator: Neil Gibson
Illustrator: Aymen Swisy
Colourist: Cris Peter
Letterer & Designer: Saida Temofonte
Tuned is a new comic from the mind of Neil Gibson and the artwork of Aymen Swisy.
TPub has a real gem on its hands with this story, with its large-scale scope to expand this universe and its characters. 
Nevertheless, this issue is a story that hits you from all directions. Coming in blind, I had no idea what to expect. After the first few pages - with the grim effects of the artwork and some excellent lettering by Sada Temofonte - I felt sure that we had a dark horror story, and I settled down to be unsettled by what was to come. This horror theme continues as we get a look at the villain of the piece, with some clever colouring by Cris Peter.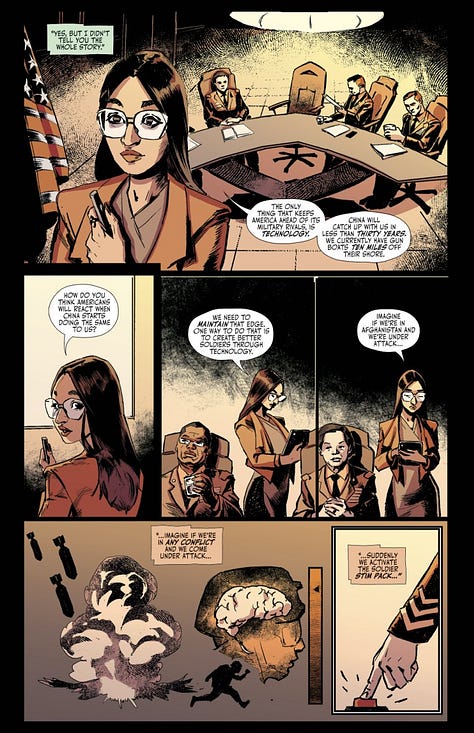 After working our way through this dark beginning, we get a new introduction, and along with a clever tonsil shift, the manner of the story changes my thoughts on this story in a matter of pages; what do we have here?
Craftily blending this story, we have an excellent combination of horror, crime, action and even some superheroics. The story and character all flow together, as we get a clever telling of the story in the now and some excellent flashbacks and storytelling within the tale itself. Even some excellent non-trope family dynamics are involved, which add to the story we have here. 
Throughout the story, the art team really up the tension. They portray action, violence, horror and discussions with aplomb, with colours being used well as we get different viewpoints, locations, and times. Within the story, the lettering is unique for different characters, and there are some excellent moments where the lettering usually adds to the scene's tone and horror. 
As a story, this never dragged, and I was not only fully engaged and invested in the world that had been created, but the story has stuck in my mind since I read it - a perfect combination of genres, storytelling, art and tone.
Sign up to be notified about the Kickstarter here:
And, if that advance review intrigues you, something more to whet your appetite - A special preview of Tuned is available for readers to download below.
What are your thoughts on this preview?