Discover more from 3 Million Years
Digital comics news, reviews and more. With Custard Comix - with a zine about things, comics and more to come!
Under Kingdom From Dark Horse Comics Coming Soon
Available for pre-order now
Under Kingdom is a new fantasy title coming soon from Dark Horse Comics. It's out in April 2023, but you can pre-order it now. It looks to be a fun read, and a worthwhile addition for young adult readers. Check out the details below:
Growing up can be monstrous…especially when your mom's missing!
Dark Horse Books is proud to announce Under Kingdom, the exciting and modern LGBTQ-friendly fantasy for young adults, written by Christof Bogacs (Earth to Chris Cleevy!, VOLUME) with art by Marie Enger (Where Black Stars Rise, Rocko's Modern Life)! This young adult graphic novel is full of adventure and familiar creatures from folklore and fantasy that fans of Critical Role, Adventure Time, and Trollhunters won't want to miss!
After the sudden disappearance of his mom, high school freshman Shay is thrust into a secret world of monsters that exists underneath his small West-Virginian town of Humble Valley. With the help of his shapeshifting aunt Sa'Belle, he must search for his mother while doing what he can to safeguard the citizens of the 'Under Kingdom' and try to maintain his normal high school life. If that wasn't enough, Shay is a strict pacifist in a world that is demanding he go to war to protect it.
An epic adventure set in a colorful world full of mischievous sock-stealing imps, adorable dragons, rowdy orcs, and an endless variety of other strange creatures. Join shay, Sa'belle, and friends in this heartwarming tale where kindness is proven more powerful than violence.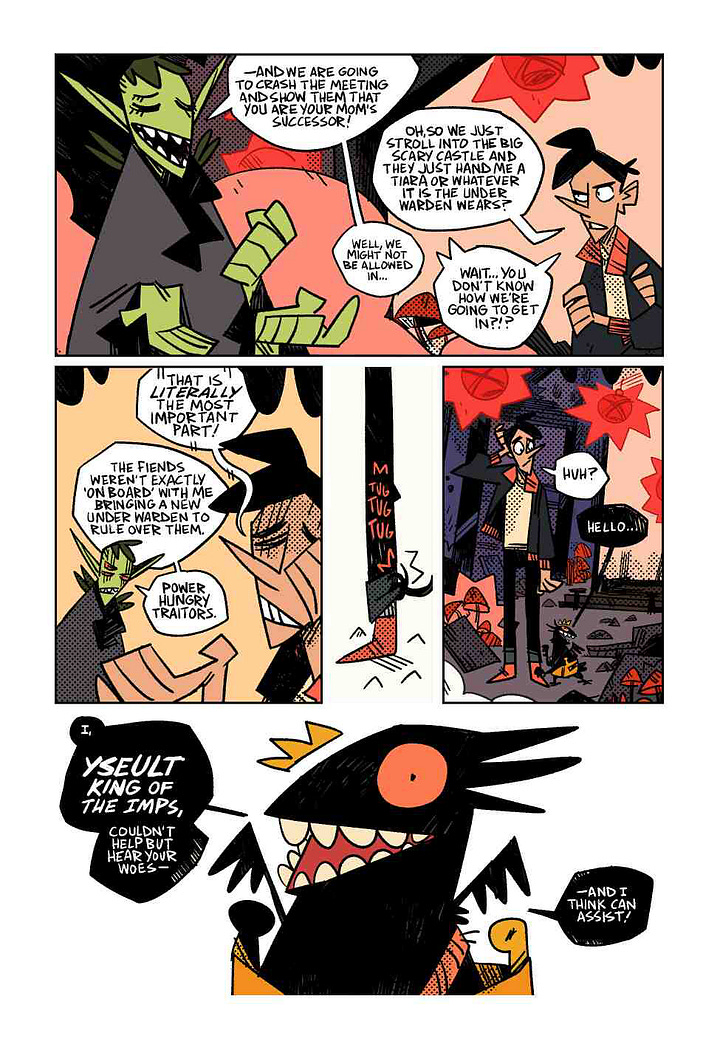 "I felt like I've been working, and could continue to work, with Marie forever," said Christof Bogacs. "Their work is absolutely undeniable and every panel explodes with personality. Half the time they would shoot me a completed character design with a name and I would just work it into the script! We hope readers come away from Under Kingdom realizing the power of kindness. It's not naive to try and see the best in people, look out for others and find non-violent solutions to problems. It's our only way forward." 
"The whole process has been yes, and how about THIS TOO?!" said Marie Enger. "From start to finish, we had a blast, and I think it shows. Moldin' the minds of the youth today is serious business - and even though we packed the book with fart jokes and fun times, I hope that the folks who read this (alone and together) are inspired towards active empathy and understanding in their own lives! …And to draw lots and LOTS of fanart!" 
Copies of Under Kingdom will be available at Emerald City Comic Con in Seattle, WA (Mar. 2 - 5) at booth artist alley booth G-13. Best of all, creators Christof Bogacs and Marie Enger will be in attendance at C2E2 (Mar. 31 - Apr. 2) in Chicago, IL. 

Under Kingdom hits shops Apr. 5 and is now available for preorder on the Dark Horse Comics website!