Discover more from 3 Million Years
Digital comics news, reviews and more. With Custard Comix - with a zine about things, comics and more to come!
Advance Review: Paper Planes
From Maverick
Maverick, The imprint from publisher Mad Cave Studios, has a new graphic novel out soon (July 18th) - Paper Planes - and I was lucky enough to read it early.
Check out the preview details below:
Leighton Worthington and Dylan Render have always been inseperable, but when they're both shipped off to a summer camp for troubled youth in the aftermath of a life-altering event, their lifelong friendship is put to the test.

Neither 'chose' to be there, but they'll need a positive evaluation from the camp to avoid being sent away, so they can continue attending high school with their friends.  The challenges of camp pushes the once-inseparable Dylan and Leighton onto personal journeys of self-discovery that force them to re-examine the incident that threatens their futures, explore the friendship they have shared for so long, and discover the type of person each of them truly wants to be.

By Jennie Wood Dozerdraws & Micah Myers
I may not be the key demographic for this book, but I found it a powerful read. Paper Planes features two protagonists who don't fit the typical stereotype, which is just perfect. This is what it's all about, and it is about finding your way.
There weren't books like this when I was growing up, and I can imagine there are many people out there who appreciate this read. There are some excellent character moments where Leighton and Dylan go through the good and bad times of growing up - working out what they want to do, where they are in life and what happens next for them. They go through some good and happy times, and there are some times from the opposite end of the scale leading to us discovering why they are in this camp and what it means for them.
There is a rich cast around them, too, with some well-fleshed-out characters - each with their points of view, opinions and goals in life. How these interact with Leighton and Dylan makes this read more enjoyable.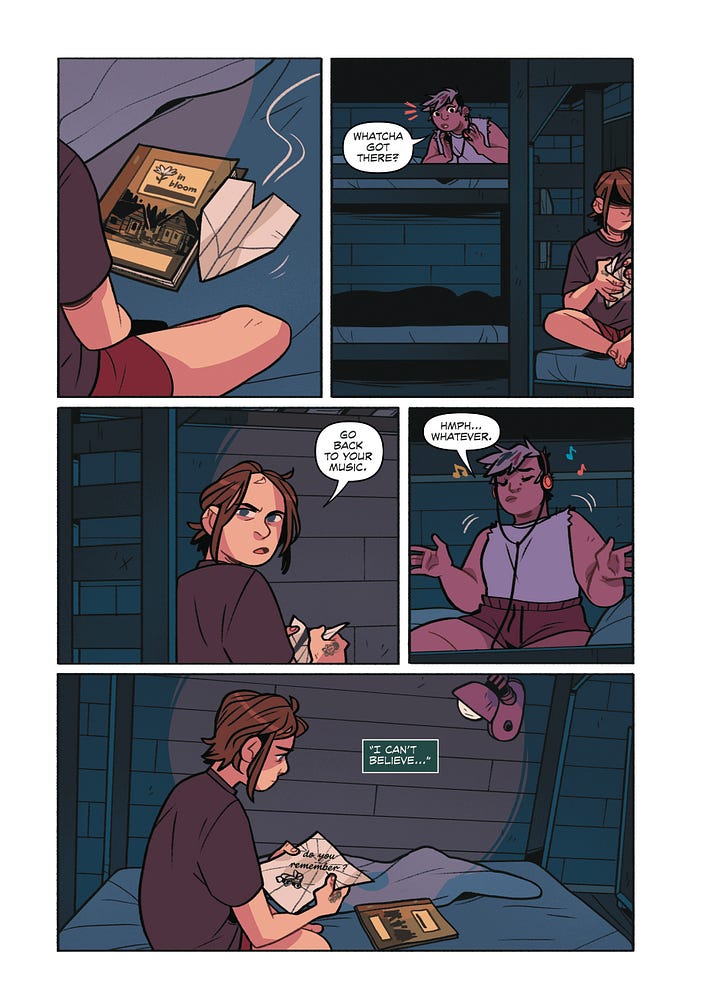 I enjoyed the art here. It portrayed the different emotions in the story, with some joyful fun scenes and sadder scenes. It artfully shows the relationships between the characters and allows the eyes to flow over the story with clever poses and colours. Some excellent aspects are made with the flashbacks, too - showing you exactly where you are.
This was an emotional read, which caused me to pause upon completion of the reading and to think. There are somewhere I think this story will hit home hard, and those who I think should read this from all points of view. A fantastic read and I don't think I will look at a paper plan and not think of the emotional beats in this story.
---