Discover more from 3 Million Years
Digital comics news, reviews and more. With Custard Comix - with a zine about things, comics and more to come!
Check Out Mega City Max
From Rebellion
Something new is coming from Rebellion in July1 - Mega City Max.
Mega-City Max is an exciting new one-shot aimed at a teen readership – it's got fresh versions of classic 2000 AD characters by some absolutely fantastic talent. Along with our 2000 AD Regened issues and collections, it's part of our mission to bring new readers to the Galaxy's Greatest Comic. It's out on 19 July in comic book stores in the UK and 9 August in North America.
The details are below.
Our future – is their reality! Mega-City Max is the brand new comic special set in the world of Judge Dredd.
Mega-City Max is the brand new one-shot comic set in the dystopian world of Mega-City One, the home of legendary comic character Judge Dredd.
Inside its 48 pages are some of the hottest breaking talent in the industry including Hannah Templer (Cosmoknights), Ramzee (Edge of Spider-Verse), Oliver Gerlach (Young Men in Love), VV Glass (Boom's The Last Witch), Lucie Ebrey (Amazing World of Gumball), Korinna Mei Veropoulou (Escape From Bitch Mountain) alongside industry veteran Roger Langridge (The Muppets, Bill & Ted Are Doomed),

This new stand-alone comic presents fresh versions of classic 2000 AD characters – with no continuity knowledge required – like Harlem Heroes, De Marco P.I., Devlin Waugh and Walter the Wobot – as well as brand new characters!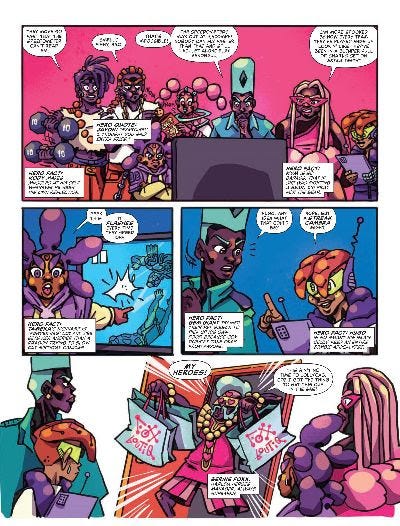 Out on 19 July from comic book stores in the UK and 9 August in North America, as well as the 2000 AD webshop, this stand-alone sci-fi anthology is aimed at teenagers, with fast-paced, action-packed and hilarious stories, as well as cover art by Priscilla Bampoh.

The stories inside include: 

DEMARCO P.I.: SNAKE OIL
Story, Art and Letters by Hannah Templer

Galen DeMarco entered the Academy of Law to give her life a purpose, however she was unfairly expelled from the Academy. The incident didn't stop her from wanting to help people, so she set herself up as a private investigator. DeMarco tackles cases that Justice Department can't or won't touch, helping out the unfortunate and needy, and she still keeps in touch with her friends from the Academy – straight-edge Barbara Hershey and psychic Cassandra Anderson.

WALTER THE WOBOT: DON'T BE CWUEL
Story, Art and Letters by Roger Langridge / Colours by Pippa Bowland

Built by the Interglobal Hardware Company, Walter the Wobot first served Mega-City One's Justice Department, but through a series of misadventures he worked his way into becoming a free citizen! Or at least the Judges didn't want him around anymore… Now, the meek drinks dispenser droid works to serve the citizens of Mega-City One, but he yearns forother experiences…

DEVLIN WAUGH: WEDDING HELLS
Story by Oliver Gerlach / Art by V.V. Glass / Letters by Simon Bowland

Devlin Waugh is a Brit-Cit born Olympian who has fallen on tough times. A parttime occultist, and full-time dashing rogue, Devlin is determined to be back in the spotlight, and will seize on any opportunity to become part of the in-crowd once again - even if that means having to roll his sleeves up and deal with demonic interlopers.

HARLEM HEROES VS THE VENETIAN VIPERS
Story by RAMZEE / Art by Korinna Mei Veropoulou / Letters by Simon Bowland

The most popular sport of the future is aeroball - a mixture of football, jetpacks, basketball and fighting all rolled into one. While the name Harlem Heroes evokes a long history of trophy-winning success, the current roster of players (led by ex-Judge Cadet Gem Giant) are a team of rough-around-the-edges rookies and have a lot to live up to.

Grab this title and more from your local comics shop – find your nearest stockist at ComicShopLocator.com.

To read 2000 AD, the Judge Dredd Megazine, Monster Fun, fiction ebooks, and hundreds of graphic novel collections, download the 2000 AD app for iOS and Android devices. As well as reading a host of free comics, can read your purchases in the app or download them as DRM-free files from the 2000 AD webshop.
1
July for UK, August for USA.