Discover more from 3 Million Years
Digital comics news, reviews and more. With Custard Comix - with a zine about things, comics and more to come!
Fund Me Friday - Cabra Cini: Voodoo Junkie Hitwoman
Live Now On Kickstarter
Spinning out of the Geek-Girl universe, there is a new hero in town with her own mini-series funding on Kickstarter - Cabra Cini: Voodoo Junkie Hitwoman1 is funded with time to spare, so you can jump on now!
Cabra Cini: Voodoo Junkie Hitwoman hits Kickstarter
Following a number of anthology short stories and also having appeared in the pages of Geek-Girl, cult character Cabra Cini (pronounced 'Carbraa Cheenee') has graduated to her own Mini-Series – and the first three issues are Live on Kickstarter now!
No longer willing to let her boyfriend/pimp treat her like dirt, Cabra Cini got lethal payback with the help of voodoo magik - and liked it. Voodoo became her new addiction and Cabra has cleaned up her act and forged a deadly new vocation…
In her Mini-Series, we're introduced to the supporting characters and antagonists in Cabra's world - including her pet werewolf El Hombre Lobo; insane Neo-Nazi White Out and his lobotomized, zombified butler Chives; and Cabra's friend-with-benefits Geoff...
Cabra's creator/writer Sam Johnson (Geek-Girl, The Almighties) fills us in on Cabra's potential love interest; "Cabra hasn't let anyone get close to her in a long time, after what she went through with her ex, and has kept Geoff at arm's length. But the two have been spending more time together, and Geoff wants to take things to the next level."
Thanks for reading 3 Million Years! Subscribe for free to receive new posts and support my work.
Johnson continues: "When Geoff makes his move, Cabra is using her bastardized version of voodoo magik to meditate herself into her 'Mind-Scape' – which she uses to psychically reach out and learn about whomever she's been hired to deal with. Geoff wants to come in… and Cabra lets him in… but something's off.
"Cabra routinely utilizes her magik to access a dimension known as 'The Infinite' – Limbo's 'crazy cousin, locked away in the attic' – which, for those who trespass upon it, can serve as a dimensional gateway between where they are and wherever they want to go (a boon for finding her 'hits'). But The Infinite and Cabra's Mind-Scape – two completely separate dimensions - seem to be overlapping. In her Mind-Scape, Cabra should have complete control – but she seems to be losing it."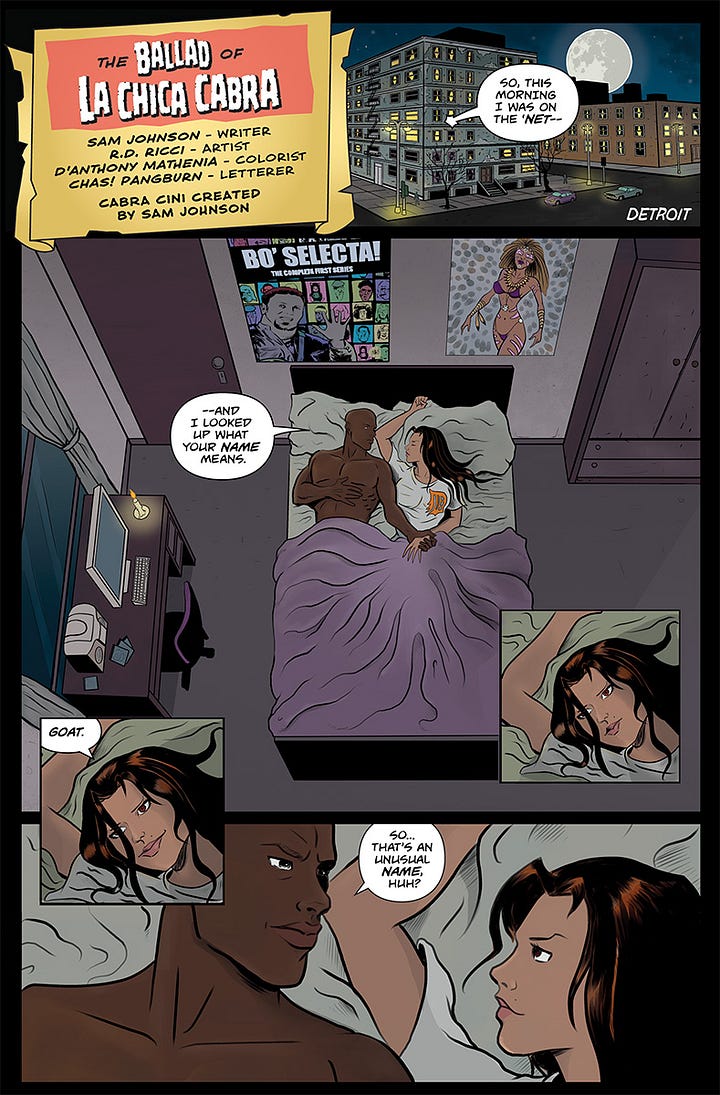 Meanwhile, white supremacist White Out – who, based on urban legend, may or may not be a ghost - is making his presence felt in Cabra's Detroit neighborhood – offering the upper-classes an opportunity to rid the place of its 'less desirable elements.'
Johnson continues: "When White Out's actions impact on Cabra and Geoff, the 'Voodoo Lady' gets involved – and things will never be same again for she and her would-be-lover.
"Cabra has broken free of her old life, and is a badass, independent, strong woman," continues Johnson, before concluding ominously, "With what's coming her way in the Mini-Series, she's going to need to be."
Written by Johnson (Geek-Girl, The Almighties), illustrated by R.D. Ricci (The Banshee Chapter, Ligeia the Vampire) and Fernando Melek (Grimm Fairy Tales, Crossed), with Nathan Ramirez (Cannibal Family, Red Sonja) and more - Cabra Cini: Voodoo Junkie Hitwoman #1-#3 are live on Kickstarter now, and you can get to it at www.cabracini.com
1
Praise for Cabra Cini:
"This is something new altogether. I give it my recommendation. Strongly."
-Michael Wearden, Mike's Comic Blog.
"The pacing's fast, the art is moving, the surprises many. I applaud Cabra Cini for breaking the limits that female characters can play in comics."
-Wayne Hall, Major Spoilers.
"Smart, effective and highly entertaining. This is from a rising talent in the comics industry."
-Steven Leitman, Reading with a Flight Ring.
"A hard hitting story with incredible artwork. I'm already a junkie and quite addicted to this character and can't wait for more.
-Bill Gladman, Comic Related.