Discover more from 3 Million Years
Digital comics news, reviews and more. With Custard Comix - with a zine about things, comics and more to come!
3MY Round-Up: This Belongs In A Museum
The Latest Round-Up from 3 Million Years
In The Beginning
In between these round-ups, I completed another rotation around the sun. Another year older and possibly wiser.
We shall see.
I did get some excellent Lego, though, with an Indiana Jones and the Last Crusade set!
How have you all been?
Don't forget you can follow and get more news and previews on:
Comic News
Mad Cave Studios are announcing a lot. And recently, they have announced a new series - Under The Influence - coming in July 2023 and a new mini-series - Project Riese - coming in the summer.
Kodansha Comics has released details on their digital manga coming in May 2023.
Rebellion has announced two new collections coming soon. There are the latest Case Files for Judge Dredd, and Surfer gets a look in too.
The Treasury of British Comics has a new classic collection with the crime boss, The Spider, featured in these latest adventures.
Band Of Bards has released details of their upcoming comics, with American Dreams, Jacin & The Olympians and Tales From The Pandemic.
Round-Up
Fresh off my being unceremoniously being refunded/kicked off of the Tales From The Quarantine Kickstarter, I decided to highlight some of the creators of this book. Some you will know, some you won't, but it's worth checking them out. You can see the Refugees From TFTQ here:
Crowdfunding
Live now on Kickstarter is a new hero, coming from a new place - The Marshall Islands - In Land Of Danger.
Thanks for reading 3 Million Years! Subscribe for free to receive new posts and support my work.
Spotlight
Here Comes The Dragon is a new series from Markus Pattern, who created Burnt Ends. I had a chance to see what has happened and a sneak look at what is to come.
Received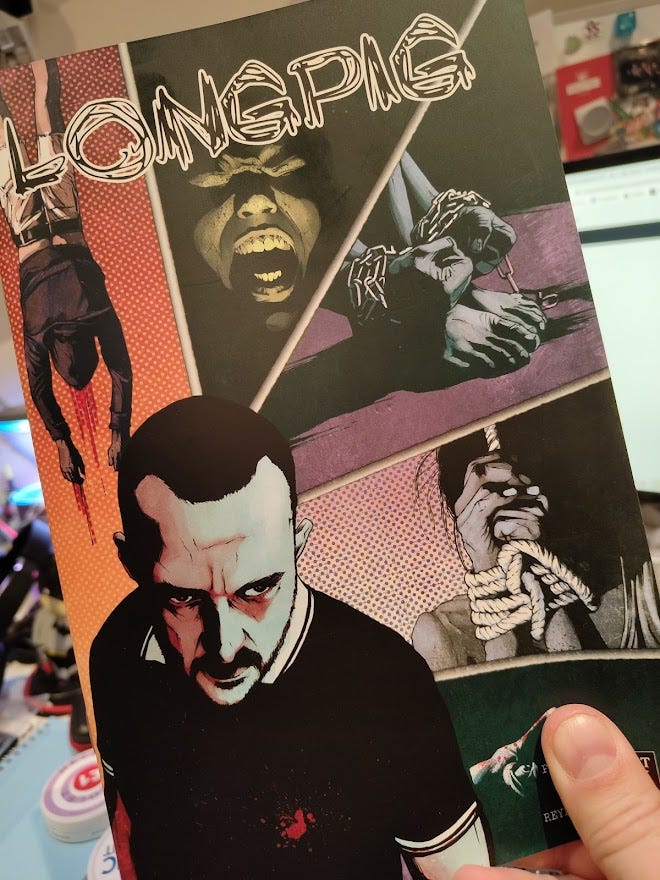 From Grayham Puttock is the latest issue of Longpig. A deep horror story with some excellent characters. You can follow Grayham on Kickstarter here; he has a new project now - Alsatian Cages: A Folk Horror Graphic Novel.
Keeping up with the horror theme is Burn With Me by Steven Ingram.
Burn with me is a 100 page "Modern Folk Horror" graphic novel about Jessica Bailey, a woman who is returning to her home town after spending 12 years in prison for the horrific crime she committed at 14 years old.
Reviews 
Vault Comics has a welcome return for a series, with the first issue of Moneyshot Comes Again.
From Image Comics, the ongoing adventures of The Ambassadors continue, with a new pair of heroes being introduced.
The Dark One gets some time to *ahem* shine in the latest issue of the ongoing series of Grimm Fairy Tales from Zenescope Entertainment. Van Helsing's adventures continue in Neverland and I enjoy reading these.
From Kickstarter to Red 5 Comics, it's the first issue of the new mini-series, We Are Scarlet Twilight.
A triple bill of Teenage Mutant Ninja Turtle action from IDW Publishing is featured here.
Two issues of 2000 AD from Rebellion, with new stories and some great ones in there too.
---