Discover more from 3 Million Years
Digital comics news, reviews and more. With Custard Comix - with a zine about things, comics and more to come!
3MY Round-Up: Waiting For A New App
The latest round-up from 3 Million Years
In The Beginning
I feel as if things are settling down for the time being. We enter a new tax year, and I'm sure things will go a little more manic again soon as soon as people get organised.
Anyway, how have you all been?I realise I have been a bit behind on posting on my Custard Comix section, I will look to redress that, and with renewed vigour, I will be working on my latest issue(s)1. I'm also going to be making more use of the chat feature here on Substack.
Comic News
Archie Comics has announced a new one-shot horror comic coming soon with a selection of stories based around the Riverdale location.
From Scout Comics, there is a new series beginning in June - Death Drop: Drag Assassin.
In this all-new killer crime-noir/thriller series coming soon from Scout Comics, it's a race against time to find a missing drag sister.
TidalWave Comics has given us a look into what comics are available in April 2023.
There is a new graphic novel coming for Halloween from Maverick. The Mad Cave Studios imprint has released some excellent stories, and Confetti Realms looks excellent.
Two new releases from the Treasury Of British Comics are coming later this year. There is more Monster Fun and a new Roy Of The Rovers classic collection.
Round-Up
We're getting close; GlobalComix is gearing up to announce the release of their digital comics app. I can see this greatly impacting how I read digital comics. I.E. Moving away from the Amazon method and using this, Marvel Unlimited and DC Infinite more!
They are hosting an online reveal, which is on Thursday, 13th of April, at 1am BST2
Crowdfunding
From Nick Pitarr, Ax-Wielder Jon is now live on the comics crowdfunding platform Zoop.
Spotlight
Something special is coming to Kickstarter and Crowdfundr - and it's worthy of a spotlight!
By Norm Konyu, Downlands is an excellent read and emotional too. The art style is unique and something very special!
Special Offers & Sales
I always try to watch markets, car boot sales and charity shops to see if any comics catch my eye.
And with that in mind, I've discovered that you can get donated comics at Oxfam! With a wide selection of comics, manga and graphic novels, it is worth keeping up to date with! Plus, your money goes to charity.
Received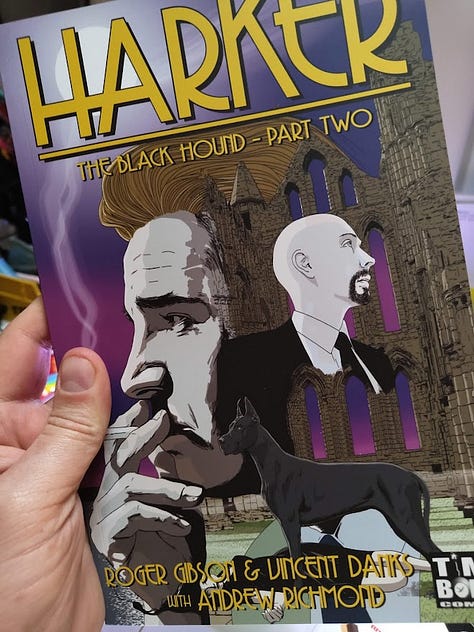 Three recent additions to my collection this time. First up from Time Bomb Comics is the second part of the murder-mystery Harker: The Black Hound. Then some classic horror with The Thing On The Doorstep completes the story from Blue Fox Comics. And for something different is the third volume of cartoons of Inky's Adventures from Dan Harris.
Thanks for reading 3 Million Years! Subscribe for free to receive new posts and support my work.
Reviews 
There's a new series from Image Comics written by Mark Millar and art by Frank Quitely; The Ambassadors looks great. Talking of Mark Millar, there is also the latest issue of vampire superheroes - Night Club.
The Black Knight returns, and there is a new issue of the ongoing Grimm Fairy Tales from Zenescope Entertainment.
Rebellion released a new all-ages issue of 2000 AD, their 'Regened' issues, plus a new regular issue.
Vault Comics has a new horror comic series that started last week - The Nasty.
1
Yes, more than one issue is planned!
2
I will probably be sleeping!