Discover more from 3 Million Years
Digital comics news, reviews and more. With Custard Comix - with a zine about things, comics and more to come!
Dave Grohl 'Orbit' Out Now
From TidalWave Comics
The man, the myth, and the legend that is Dave Grohl is going to be featured in a new 'Orbit' comic from TidalWave Comics1.
Thanks for reading 3 Million Years! Subscribe for free to receive new posts and support my work.
TidalWave Comics is proud to announce the addition of Dave Grohl to its popular "Orbit" comic book series focused on personalities who impact the world. "Orbit: Dave Grohl" is released this week.
Written by Adam Rose and illustrated by Martin Gimenez, this 22-page comic book is available both digitally and in print and can be found on multiple platforms such as Amazon. It will also be released in paperback and hard cover the same day.
The world of Rock and Roll shook with the arrival of David Grohl. From his time on drums with Nirvana, to his creation of The Foo Fighters, Grohl has captivated fans across the planet. This comic gives a glimpse of all that is Grohl! It will transport you to him playing with Iggy Pop, his record appearances on Saturday Night Live, his face-off on drums with the Muppet's Animal and so much more. Grohl continues to jam, Grohl continues to inspire, Grohl is Rock.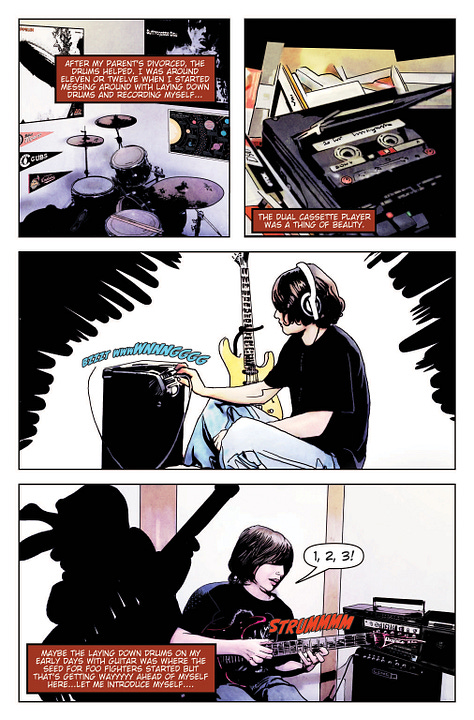 "Diving into the genius of David Grohl can only be described with one word: awe. His life and body of work are an incredible story to explore!" said writer Adam Rose.
"As a reluctant reader, I found the comic book form easy to access, so I always believed comics could both entertain and teach," said publisher and creative force Darren G. Davis. "I have always found Grohl an amazing performer and an icon. The comic books people a new demographic to learn about their favorite musicians."
The "Orbit" comic book series has been featured in "Entertainment Weekly", "Rolling Stone" magazine, "Time" magazine, "People" magazine and has featured musical artists such as John Lennon, Kurt Cobain, George Harrison, Paul McCartney, Alice Cooper, David Bowie, Ozzy Osbourne and more!
TidalWave Comics vast catalog of titles can be purchased in print on Amazon also be downloaded on ComiXology, DriveThru Comics, Google Play, Overdrive, iTunes, Kindle, Biblioboard, Nook, Kobo and wherever eBooks are sold.
1
About TidalWave Comics
TidalWave is a multifaceted multimedia production company with the mission of delivering dynamic storytelling in a variety of forms by developing graphic and literary fiction and nonfiction, audio, film and more. The company's wide range of diverse titles delight readers through its creative and innovative storytelling available in high-quality print and electronic formats.
TidalWave delivers a multimedia experience unparalleled in the burgeoning graphic fiction and nonfiction marketplace. Dynamic storytelling, coupled with groundbreaking art, delivers an experience like no other. Stories are told through multiple platforms and genres, gracing the pages of graphic novels, novelizations, engaging audio dramas and cutting-edge film projects. Diversity defines TidalWave's offerings in the burgeoning pop-culture marketplace through its use of fresh voices and innovative storytellers.
As one of the top independent publishers of comic books and graphic novels, TidalWave unites cutting-edge art and engaging stories produced by the publishing industry's most exciting artists and writers. Its extensive catalog of comic book titles includes the bestsellers "10th Muse" and "The Legend of Isis," complemented by a line of young adult books and audiobooks.
TidalWave's publishing partnerships include entertainment icon William Shatner ("TekWar Chronicles"), legendary filmmaker Ray Harryhausen ("Wrath of the Titans," "Sinbad: Rogue of Mars," "Jason and the Argonauts" and more), novelists S.E. Hinton ("The Puppy Sister") and William F. Nolan ("Logan's Run"), and celebrated actors Vincent Price ("Vincent Price Presents"), Dirk Benedict of the original "Battlestar Galactica" ("Dirk Benedict in the 25th Century") and Adam West of 1966's "Batman" fame ("The Mis-Adventures of Adam West"). TidalWave also publishes a highly successful line of biographical comics under the titles "Orbit," "Fame," "Beyond," "Tribute," "Female Force" and "Political Power."