Discover more from 3 Million Years
Digital comics news, reviews and more. With Custard Comix - with a zine about things, comics and more to come!
3MY Round-Up: This Was Meant To Be Smaller!
The latest news from 3 Million Years & More
In The Beginning
I've started posting about Custard again. I meant to get into more of it and started on the next issue too. Hopefully, it will all start coming together.
Without wanting to inundate readers with emails, I have sent out my latest update on how you can manage them - including just getting this round-up.
Don't forget you can follow me on:
Comic News
Mad Cave Studios has a new series starting in May 2023. Monomyth is a fantasy horror series. On top of that, they also have a new graphic novel coming later this year - a crime thriller called John Tiffany.
Collecting the big crossover between 2000 AD and Judge Dredd Megazine, Rebellion has the latest collection with The Darkest Judge coming soon.
There is also the announcement of a new book - Comic Book Punks - about the British Invasion of American comics in the 80s.
University Press of Florida has released details of a new musical biography graphic novel about Tom Petty.
Top Shelf Productions has announced the first of a series of graphic novels. Lisa Cheese and Ghost Guitar: Attack of the Snack is the first book.
Ablaze Publishing has released details on its summer comics and graphic novels.
From PaperCutz, there is news of an illustrated novel, Children Of The Phoenix: The Eye Of The Storm, coming in December 2023.
Round-Up
It looks like there are some new digital comic ideas coming soon. With news of GlobalComix releasing their app, there is also another new distributor - Omnibus - who has announced the addition of Mad Cave Studios. I've only heard about this app being on the iPad, but hopefully, there will be an Android version too.
Along with that, with print and digital options, there is a new publisher in town with DSTLRY.
Crowdfunding
So I did get something from Tales From The Quarantine - a refund! Not that I asked for one. You can see the details here:
The latest round-up of crowdfunding projects featured can be found here - these include Chronicles of Ivy, TFTQ, Resolution, Thunder Hunters and Downlands
Spotlight
Quantum from Time Bomb Comics is out in the shops this month, and I will be watching for it.
On top of that, they are offering a chance to win the cover art for the first issue of Quantum!
Special Offers & Sales
For those of you who want to get on board the GlobalComix train, then they have a special offer for you.
For a limited time, get one year of GlobalComix Gold for only $69.99. Access every release on GlobalComix with unlimited reading, including hits like AWA Studios' award-winning Not All Robots, and thousands of others.
This sale is active until May 1, 2023, at 2:59AM EDT.
Received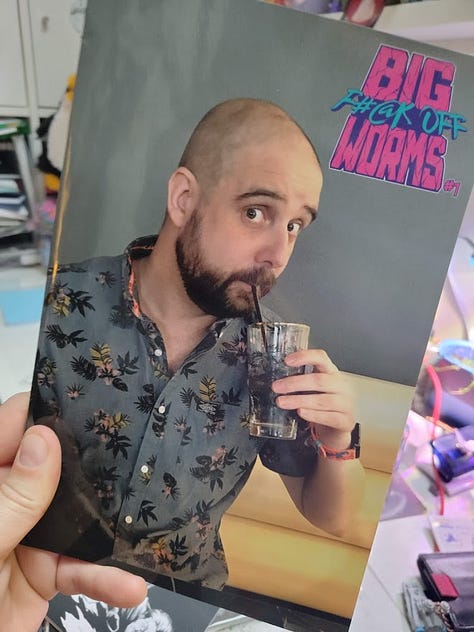 A great haul these last two weeks. Matt Garvey has delivered again with Big F#@k Off Worms - I love this book. From Ewan Power, there is the second issue of Hanya, I love the black-and-white art, and the story mixes gangsters and magic well. Some haunting horror in Lincoln Green written by Chris Fildes and amazing art to make this one for the dark nights! Classic feeling Sci-Fi in Dark Legacies from Scratch Comics. The final two issues of Damsel From D.I.S.T.R.E.S.S. complete this story - hopefully, more to come from Bincat Press.
Reviews 
From Zenescope Entertainment, a new mini-series begins with Cinderella Vs The Queen Of Hearts #1. There is also a new large-sized Grimm Tales of Terror.
There are two issues reviewed of 2000 AD from Rebellion.
The second issue of Chronicles of Ivy is now funding on IndieGoGo and I got a chance for an advance review.
From Image Comics and by Mark Millar, a few new releases are reviewed.
---