Discover more from 3 Million Years
Digital comics news, reviews and more. With Custard Comix - with a zine about things, comics and more to come!
3MY Round-Up: A Year Since The Banana
The latest round-up from 3 Million Years
In The Beginning
It's a year since I suffered an anaphylactic reaction after having a banana1. With that in mind, please check out the information on Allergy UK.
I even made a t-shirt design to celebrate it.
Anyway - how have you all been?
For paying subscribers, this past week was a special post on my comic/cartoon book - …And Then…?!
Comic News
TidalWave Comics has released details on its comics, which will be available in June 2023.
New digital comics publisher DSTLRY has announced its first comic release. It's an anthology comic with a large number of creators involved.
GlobalComix's app is moving closer and they have released details after some of their community feedback.
Coming this winter is a new original graphic novel - Digital Lizards of Doom - from PaperCutz.
Building up to Christmas already, there is a new annual to look forward to from Rebellion.
There are two new digital manga offerings from Kodansha this month for manga fans.
There is some double news from Mad Cave Studios, with a new series being announced and a new partnership leading towards some new comics too.
Round-Up
The latest spotlight details of those who contributed to Tales From The Quarantine are now available to read.
3 Million Years is a reader-supported publication. To receive new posts and support my work, consider becoming a free or paid subscriber.
Crowdfunding
Continuing their excellent series, TPub has announced details on their upcoming Kickstarter project. Twisted Dark is up to it's eighth volume and you can sign up to be notified when it goes live.
Also coming soon to Kickstarter is Boxes by ThirdBear Press, with a good selection of comics and more. I look forward to seeing all of this.
Spotlight
Over on GlobalComix, you can check out the new series - The Universum.
Received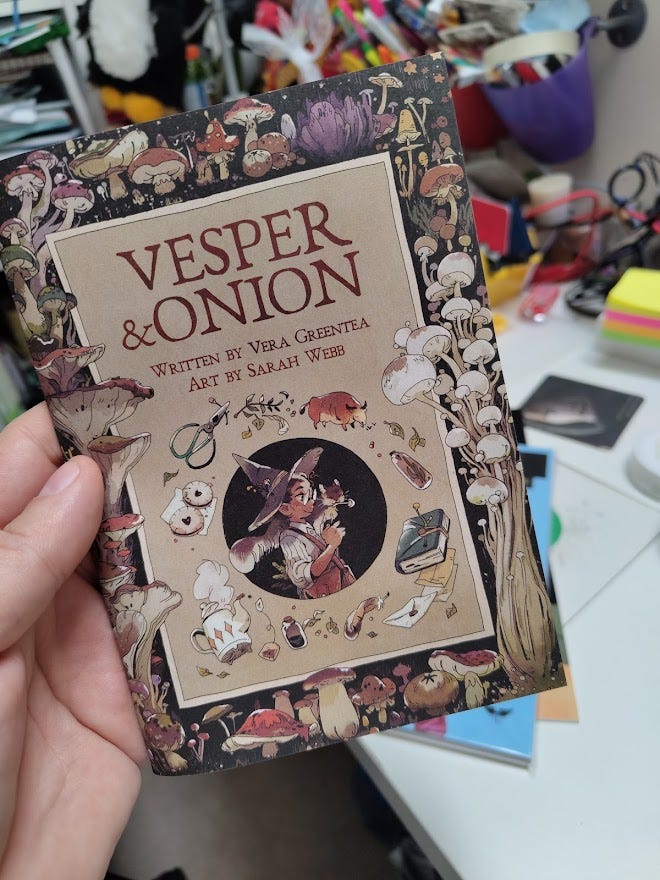 Vesper & Onion from GreenTea Publishing was an excellent read, and I enjoyed sitting with this. With a review coming soon, Shokwave continues the anthology with a good mix of sci-fi and horror. Paragon #32 arrived recently, and looks to be a fun read - a review will come soon. Chronicles Of Ivy continues with some big storytelling too.
Reviews 
From Image Comics, two new comics are out - Night Club and The Ambassadors reaching their penultimate issues.
Belle returns from Zenescope Entertainment and new issues from Grimm Fairy Tales and Robyn Hood.
Band Of Bards has a new anthology comic out now - with some interesting looks at the times of the pandemic.
A special review of Vesper & Onion from GreenTea Publishing (£)
A new mini-series begins from Rebellion. Battle Action features some excellent wartime stories.
---
---
1
It's rare to be allergic to bananas and even rarer to have such a reaction as I did.