Discover more from 3 Million Years
Digital comics news, reviews and more. With Custard Comix - with a zine about things, comics and more to come!
3MY Round-Up: Wind, Rain and Snow
The latest round-up from 3 Million Years
In The Beginning
Well, this has been a little odd. Over this last week, there was some settling snow! This was 'proper snow'1, and although it caused a little chaos on the roads, I mainly work from home, so it didn't affect me anyway!
Then it just rained!
Thanks for reading 3 Million Years! Subscribe for free to receive new posts and support my work.
I've started on a new project coming from Custard Comix. I'm not giving it away, and it may feel slightly niche, but I've had the idea in my head for a long time, and now it is time to put it together. I've still got other plans for the rest of the year (or so), and hopefully, I'll be able to get those together. More news in the coming weeks!
How have you all been? What have you been reading or creating?
Comic News
Coming soon from Mad Cave Studios is a new series - You've Been Cancelled. This looks to be an entertaining series and right up my street.
Rebellion has collected their special RPG book, The Complete Diceman, coming in May 2023.
There are previews of this month's manga from Kodansha with information and previews of two new titles.
With news from Noir Caesar Entertainment and Tokyopop. They have teamed up to bring three new titles in July and August 2023. You can check out the details and information.
Linking webtoons with traditional publishing, Ablaze Publishing has announced the upcoming release of Get Schooled.
Big news of an exciting Kickstarter coming soon - The Berg looks to be an excellent read and something I will have more on soon.
GlobalComix has added two new publishers - Bad Egg Publishing has joined the digital comics distributor and has Godslap available now by MoistCr1TiKaL. And comics by TKO Studios are now available to read or download as PDFs.
Time Bomb Comics has announced more information on their upcoming anthology comic - Quantum #1 is out in April.
The upcoming app, Omnibus, has had its first announcement, and Vault Comics has joined them - I'm sure there is more news to come.
Round-Up
I've been impressed with the output from Mad Cave Studios recently. I have been reading Nottingham and Nature's Labyrinth on GlobalComix, and others are waiting to be read. They are certainly worth checking out, and I would recommend them.
There's something special coming from TPub, and I can't wait to tell you all about it! Tuned is something special, and there is going to be a lot more about it soon!
Don't forget. I also post other news and previews on the 3 Million Years Facebook page.
Spotlight
Next week marks the release of Geek-Girl #10, and here is a preview of what you can expect. Available in print or digitally.
Ruby's BFF Summer is out to get her own powers and fill the gap in Geek-Girl's new Super-Team. Meanwhile, Geek-Girl and her team-mate The Minger head out to fight crime. Get ready for Identity Thief!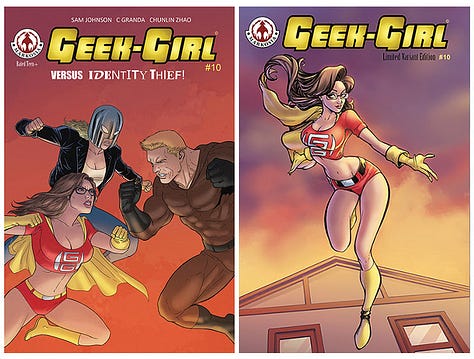 Crowdfunding
Live now on Kickstarter and from the Geek-Girl universe is a crowdfunder for Cabra Cini: Voodoo Junkie Hitwoman.
Plus, three new Kickstarter projects to check out:
Special Offers & Sales
Get XO Manowar from Valiant Comics in this sale on DriveThruComics.
Received
A good selection this week!
By Karl Kesel, Impossible Jones has been picked up by Scout Comics. I back the Kickstarters and they are great fun to read. Monty Nero's Death Sentence is an excellent series, with more Kickstarters to come! Tank Girl is a classic character, and I love the mayhem! This was a special edition, and you can get yours here. I'm pleased to get Internation Aces, as I've been wanting to read these stories for a while. Check out InkShot for details.
Reviews 
From Zenescope Entertainment, this story's final issue is from the realm of Oz, with some more on this new/old wicked witch!
Talking of witches, Gretel returns in Seeds of Dispair, and this continues to build on her larger arc.
Rebellion brings us the latest two issues of 2000 AD, with Prog 2321 bringing us a classic Jock cover!
I was able to get an advanced look at one of the latest releases from Top Shelf - Glork Patrol and the Magic Robot. It's good fun!
There was a special review and links to the Kickstarter in Night Of The Comet - check it out to get your copy!
---
1
Well, at least as much as we get in the South-East UK