Discover more from 3 Million Years
Digital comics news, reviews and more. With Custard Comix - with a zine about things, comics and more to come!
3MY Round-Up: Holidays Comings & Then Cons
The Latest Round-Up From 3 Million Years
In The Beginning
I've got the mood for my summer holiday. Coming soon, but not soon enough. Even so, I look forward to rest, sun and fun with the family. I will, of course, be letting you all know so you know there will be some quiet while I am away. Hopefully, you will all get some time off as well.
After that, I will be gearing up for a couple of conventions. In October, I am going to MCM London, which has some news on some of their site about guests coming already. I will also be up at Thought Bubble in November.
3 Million Years is a reader-supported publication. To receive new posts and support my work, consider becoming a free or paid subscriber.
Paid subscribers can no get my most recent addition to Custard Comix, with two new comic strips and some thoughts behind them.
Comic News
Mad Cave Studios has teamed up with Tatsunoko Production to bring Gatchaman to a new audience of fans. On top of that, Mad Cave Studios also have a new graphic novel coming later this year - Mariko Between Worlds.
IDW Publishing has announced a new series - The Department Of Compliance - and it's coming for us in November 2023. There is also the continuation of the future world of the Last Ronin and the TMNT with Re-Evolution.
Archie Comics has some horror coming this year, with a new Sabrina adventure, as well as a selection of new stories for their 'Month Of Mayhem'
Rebellion has a new collection coming soon, and it is selection of sci-fi horror. Tharg's Terror Tales arrives in October.
Kodansha has provided details of their upcoming physical and digital manga, as well as details on their new series - Blood Axe.
Round-Up
Would you believe that people still haven't received their 200+ page Tales From The Quarantine books?
It is now getting to the point where people are asking what will come first:
Meanwhile, embarrassingly, Frazer Brown and Red Cabin Comics are posting about San Diego Comic-Con, awards and future projects. It's all a little sad, with comments being switched off on various social media posts (Reddit, Instagram) or blocking away (Bluesky). I can't help but shake my head. Yes, I was lucky to get a refund, but this spectacle seems to have no way of slowing. There has been communication with the charities that were supposed to benefit, as well as some various legal aspects. I can't even bring myself to read the digital copy that someone sent to me, and I love a lot of the talent involved.
Crowdfunding
Funding on Kickstarter now is Seventh Sister #1 from Fox Red Comics - kicking off a new series. Check out my review below and the link to the campaign.
Spotlight
Coming soon from CEX is The Miracles.
Written by Joe Glass, with art by Vince Underwood, colours by Harry Saxon and letters by Hassan Otsmane-Elhauou. I backed the collected edition on Kickstarter a while ago, and I'm glad to see it serialised for a wider audience.
High School Senior Elliot Morgan has been obsessed with superhero comics all his life, especially Major Voltage Adventures, a comic that suddenly ended the year he was born. A family secret unravels just as he's suddenly getting super-powers!
Received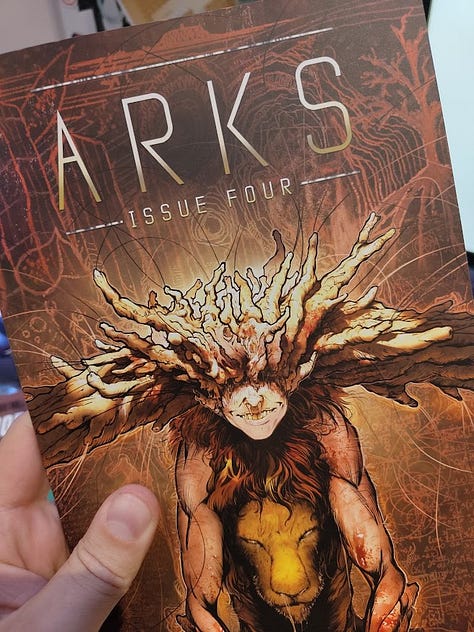 There is the latest issue of the high-concept sci-fi series ARKS, with a new campaign coming soon. With some football-related content and humour, is the latest issue of Geoff Of The Juniors. With my home town getting a mention, I'm glad to get The Berg. And two from Black Rose Publishing, with the one-shot A Place Of Our Own and new series The True Story Of A Free Man.
Reviews 
A special review from Blue Fox Comics and some classic horror and suspense in The Mountains Of Madness.
From Maverick - an imprint of Mad Cave Studios - is a new graphic novel, Paper Planes. It's excellent, check out my review below.
The big crossover of the Millarverse starts here, with Big Game #1 from Image Comics. There is also the conclusion to the vampire superhero story Night Club.
From Rebellion, along with the two latest issues of 2000 AD, and, along with the latest issue of Battle Action, there is a new one-shot story for young adult readers - Mega City Max.
Zenescope Entertainment continues the massive story arc in Grimm Fairy Tales, plus new adventures for Van Helsing and Belle.
From IDW Publishing there is a new one-shot story from the Lost Ronin TMNT universe. I really enjoyed it and got the physical version too.
From Kickstarter to my hands, and I have a copy of Hornets for a special subscriber review.
A rare return review forTRAKOVI. I reviewed this book as part of it's Kickstarter campaign, but now it is available from Scout Comics.
From Band Of Bards is a new twist on the classic story in Jacin And The Olympians.
---