Discover more from 3 Million Years
Digital comics news, reviews and more. With Custard Comix - with a zine about things, comics and more to come!
3MY Round-Up: Back On Board?
The Latest Round-Up From 3 Million Years
In The Beginning
Well, that past two weeks went fast! I am gradually catching up with my comics, and my read pile is getting gradually smaller. See the 'Received' section with what I have in my read pile.
I'm gearing up for my daughter's 18th birthday as I write this, and there is still a lot to do! It never ends!
A highlight on The Butterscotch Tart issue of Custard is available to whet your appetite. And for subscribers, there is a special look at …And Then…?
I'm kind of thinking of getting back on my skateboard. The weather is dryer, so it's a choice of getting on the longboard or my normal one. It can be good exercise too. Of course, if I report that I have a broken wrist next time, you will know what happened!
How have you all been?
Comic News
Coming from Scout Comics is a new mini-series. Charm City looks to be a fantastic read. I've read the first issue (review coming soon); it is a lot of fun.
Mad Cave Studios has added a new partnership. With ZAG joining up and imprints Maverick and Papercutz publishing some new comics.
In addition to that, there is a preview of the upcoming Tales From The Cave coming in September 2023.
Some excellent news from Time Bomb Comics - Quantum #2 is coming soon.
There's a new way to read comics from Band Of Bards with their addition to ComicsPlus.
In the pages of 2000 AD, a new story is coming next week.
Round-Up
I've been seeing a lot of the #ComicsBrokeMe trend on Twitter recently, and there are some terrible stories from those who really want to create something in a medium they love.
I offer a lot of support to these people, and I hope they get what they need to survive and create. Keep supporting indie comics and backing their crowd-funders!
Crowdfunding
Over on Crowdfundr is a new project to create awareness and help children and families fighting the devastating disease, Cystic Fibrosis - Ballistic Boyz
Zoop has announced the return of a classic character in Stardust: The Super Wizard.
While Vault Comics has a new Kickstarter for Pride Month in Sainted Love.
Spotlight
There's a new round-up of Refugees from TFTQ. There seems to be total radio silence from Frazer Brown/Red Cabin Comics. I am lucky to get a refund for the book, but wonder what happened to the money?
Received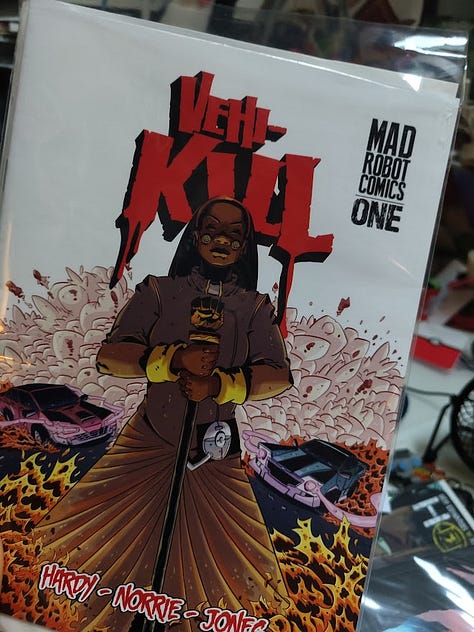 A good haul these last two weeks, including from Blue Fox Comics, The InSpectres and The Mountains Of Madness. Hornets have been covered here before, and I'm glad to get a physical copy, and you can also check out my review of The Comic-Con Survival Guide too.
Reviews 
Book two of Shokwave arrived from Kickstarter, combining horror and science fiction from Kult Creations.
And advance review from Blood Moon Comics, with the beginning of a new series. Check out Monster's Clean Up Guy.
Two issues of 2000 AD this last fortnight, with a special 'Regened' issue from Rebellion.
From Zenescope Entertainment is a new spotlight issue. This time returning to Masumi and her demon-hunting. The larger arc continues with a new aspect in Grimm Spotlight.
Two titles from Mark Millar as we build up to Big Game from Image Comics. The Ambassadors ends while it's the penultimate issue of The Magic Order 4.
From Vault Comics, there is the second issue of the second volume of Money Shot. And then there are two new reviews - The Nasty continues while spinning out of Barbaric there is Queen of Swords.
A new horror-based mini-series from Red 5 Comics starts, and an advance review is available.
Learning about comic-cons? Well, this from CoCo Comics Publishing may be for you!
An interesting reset issue of Teenage Mutant Ninja Turtles is out now from IDW Publishing.