Discover more from 3 Million Years
Digital comics news, reviews and more. With Custard Comix - with a zine about things, comics and more to come!
3MY Round-Up: Optimus Prime Day
The Latest Round-Up Of Posts & News
In The Beginning
Well, I found Prime Day a bit of a dud this year. Sometimes there are some bargains to be found, but all I got was perfume for my lovely wife1.
I was a big Transformers fan, in comic and cartoon form, so when ever someone mentions Prime, I think of the Autobot leadership2.
It's been a busy couple of weeks, with some interesting and fantastic comic news and reading being done. I've noticed an influx of news on horror comics due to come out in October. It's good to see publishers getting organised.
For paying subscribers, there is the latest comic and information from my family-filled comic - …And Then…?
Comic News
New from Rebellion, and linked to the pages of 2000 AD, is a new one-shot comic aimed at teen readers - Mega City Max. Talking of the pages of 2000 AD is that there is a new story beginning in Portals & Black Goo.
Rebellion and the Treasury Of British Comics have two new collections coming soon - check out the details of these new Misty and Robo-Hunter stories.
Top Cow & EP1T0ME have announced a team-up to bring us a new series - Destiny Gate.
IDW Publishing has a new horror story coming. It looks a little cute and fuzzy, with an interesting horror twist.
Maverick has a new original graphic novel coming this winter - Voyage de Gourmet.
Some science fiction and a blend of rock & roll from Ablaze Publishing in the new series, The Prism.
Image Comics imprint, Syzgy, has a horror mini-series beginning in October. Check out the details of this special story.
Commentary
Where were you in the great social media wars of the 2020s?
I really don't know what the answer is here. Twitter has been turning into a total dumpster fire since the takeover. My Substack links work as I self-hosted, spam and bots are rising, and various restrictions exist. I'm on Threads, and that seems like chaos. I get people I follow and people the algorithm seems to think I should see. Some are fine, but others…less so.
I'm on Bluesky, where it seems many comics people I know, and respect have decamped to. The blocking seems good, and it has a friendly vibe. I do miss the trending topics/news aspect that Twitter has, though.
My LinkTree will be massive - I'm on Twitter, Facebook, Instagram, Bluesky, Mastodon and Hive. What do you use?
Crowdfunding
From Glenn Bray over on Zoop, you can now join the crowdfunding on Scrap Book.
And live now on Kickstarter from Clash Digital Publishing is Terminus Veil: Volume 1.
Spotlight
A special spotlight review of Halloween Team, a mini-series for fans of Scooby-Doo, Buffy and more! It's available digitally on Amazon and GlobalComix.
Received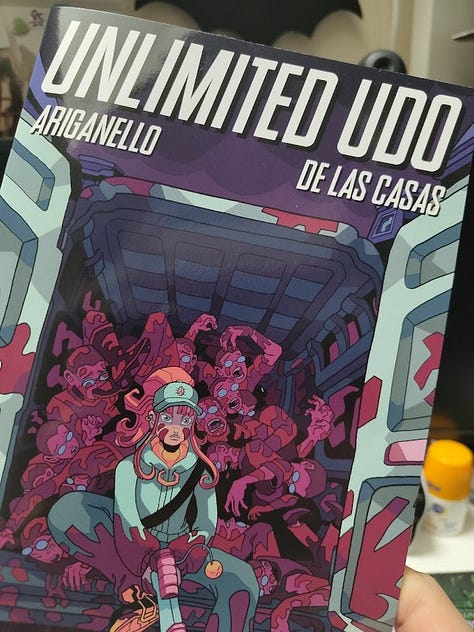 From Pesto Comics is a brilliant one-shot comic, Unlimited Udo. There were two comics from Black Rose Publishing - A Place Of Our Own and The Untold Story Of A Free Man #1. Starlite continues from Overcast Comics3. And finally from The Bigfoot Studio is some folk horror in The Wicker Pasty.
Reviews 
From IDW Publishing, there is the conclusion to the long-running story arc in Teenage Mutant Ninja Turtles: The Armageddon Game. The turtles continue with the main series, and a TMNT Annual. There are also two new series in The Rocketeer and The Hunger and the Dusk.
There are the latest two progs of 2000 AD, with new story arcs and new stories starting.
A mini-series completes from Zenescope Entertainment with Cinderella Vs The Queen of Hearts. The invasion of the Grimm Universe continues with Robyn Hood (and more)
There's a special review of Antarctica from Top Cow4.
Coming soon from Scout Comics is a new series, Charm City. It looks to be an interesting read with some high stakes.