Discover more from 3 Million Years
Digital comics news, reviews and more. With Custard Comix - with a zine about things, comics and more to come!
3MY Round-Up: Is This The Way?
A Busy Week Over and updates from 3 Million Years
In The Beginning
Hello, and welcome to the latest round-up of the last two weeks on 3 Million Years. It's been a busy and fun week - both in terms of comics and my day job. I've had various IT issues that have caused my working day to be manic, but I got out the other end, and things seem to be working now.
I've been enjoying The Mandalorian on Disney+, and it has a great SciFi/Western feel. Wednesdays are good now, with The Bad Batch picking up and building on its story, and things seem to be building for Mando! 1
Thanks for reading 3 Million Years! Subscribe for free to receive new posts and support my work.
What are your thoughts on it?
Comic News
Rebellion has announced an upcoming new 'essential' collection, with Judge Anderson being the main character.
A new digital reading option is coming soon - Omnibus - and Vault Comics has announced that their comics will be available on the app.
From Mad Cave Studios, there is a new series coming - Exorcists Never Die starts in April 2023.
Some big additions to digital comics distributor, GlobalComix, with new publishers including Image Comics, BOOM! Studios, Archie Comics, TOKYOPOP, and NBM Graphic Novels - their app can't come soon enough!
Ablaze Publishing has announced its releases for June and July 2023, including comics and manga.
There's a new graphic novel coming out of C2E2 - Pimp Killer.
Adding something to your comics reading is Higher Ground. With music links from QR codes.
Don't forget you can follow me on:
Crowdfunding
Two round-ups in this round-up! First up is Tuned, The Other Happy Place, Impostor Syndicate, Hornets & Tales From The Interface - with links to Kickstarter and Zoop.
And The Berg, Brawler and DARLA are all featured in yesterday's round-up:
Spotlight
Dead Romans is a fantastic read, and I had the chance to ask creator Fred Kennedy 10 questions on digital comics:
Special Offers & Sales
Hot on the heels of the Attack on Titan Final Season THE FINAL CHAPTERS Special anime, Kodansha USA & Humble Bundle have teamed-up once again to bring one of the most complete digital collections of Attack on Titan media ever compiled with the Attack on Titan Forever Humble Bundle. For the first time ever, all 34 volumes of the original Attack on Titan manga series, along with popular spinoff manga like Attack on Titan: Before the Fall, Attack on Titan: No Regrets, as well as world-expanding light novels like Attack on Titan: Harsh Mistress of the City, and even a Humble Bundle-exclusive art book, can all be purchased in one digital bundle – available now until April 13, 2023. Perfect for new Attack on Titan fans wanting to explore beyond the anime, or veteran completionists looking to beef up their digital library, everyone saves big with this titanic offer of 71 titles, worth over $825 in manga and books, for just $25.
Received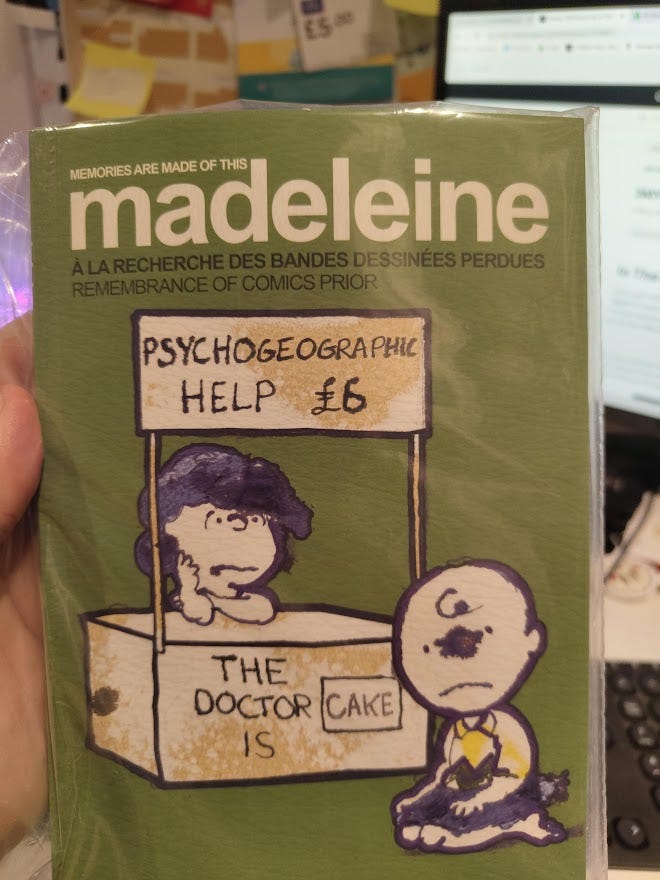 From Simon Russell is Madeleine - 96 pages of memories about life and comics. 28 writers. An old-school fanzine in a book from fans and pros in the comic world.
Helga Frankenstien continues from Jon A Short - with monsters and action!
I had to get the catch-up issues of Bust by Dave Cook, but I'm glad I did - one more issue to go!
And from TPub (with some of my praise on the back) is Amputation Capital - a clever look at celebrity and social media.
Reviews 
Coming from TPub is a new graphic novel. Tuned looks fantastic, and I was lucky enough to have an advance review.
There's an untrustworthy review of Nemesis: Reloaded #3 from Image Comics to check out. Also by Mark Millar is the latest issue of The Magic Order. I mentioned it above, but there is also a review of the new series Dead Romans.
We get the finish to a story arc and the beginning of something new for Van Helsing from Zenescope Entertainment. We also have the latest adventure for Belle and the latest issue of the Phoenix Files mini-series.
There are two progs of 2000 AD from Rebellion to work through as well. A fantastic mix from this anthology comic.
Live on Kickstarter is the latest issue of Tales From The Interface - I had a chance to have a look at this new issue.
There's a lot of Turtle action from IDW Publishing - with The Last Ronin, The Armageddon Game and the main TMNT series.
Coming to Kickstarter in April is The Berg. An excellent read, with a mention of my home town as well!
From Source Point Press is Etheres - this is a fantastic one-shot with a special story inside and amazing art.
---
1
I'm still holding out hope for a live-action Hondo though!